Affordable accommodations in Ushuaia available to everyone

Cheap accommodations in Ushuaia: Discover the best option for your trip!
Many travelers wonder how they can enjoy the incredible city of Ushuaia without spending a fortune on accommodation. Don't worry! In this article, we will present you some affordable accommodation options in Ushuaia that are accessible to everyone.
Temporary apartment rental in Ushuaia
One of the most chosen and convenient alternatives is the rental of temporary apartments in Ushuaia. These apartments are an excellent option for those looking for more privacy and comfort during their stay. You can find a wide variety of apartments, from small studio apartments to spacious multi-room apartments. By opting for this alternative, it allows you to save money by having your own kitchen and thus prepare your own meals instead of spending in restaurants every day.
If you prioritize privacy, temporary rental apartments are an ideal option. These accommodations usually have all the comforts of home, as we mentioned before: fully equipped kitchens, spacious living rooms, and private rooms. By staying in a temporary apartment, you will have the freedom to enjoy your own space without schedule restrictions or strict rules. You can relax and unwind after a day of walking in the city, knowing that a quiet and comfortable place awaits you when you return. In addition, many of these apartments are located in residential areas, which will allow you to immerse yourself in the daily life of Ushuaia and live like another resident during your stay. But you will also find many located in the city center. Adding to the aforementioned benefits, an unbeatable location.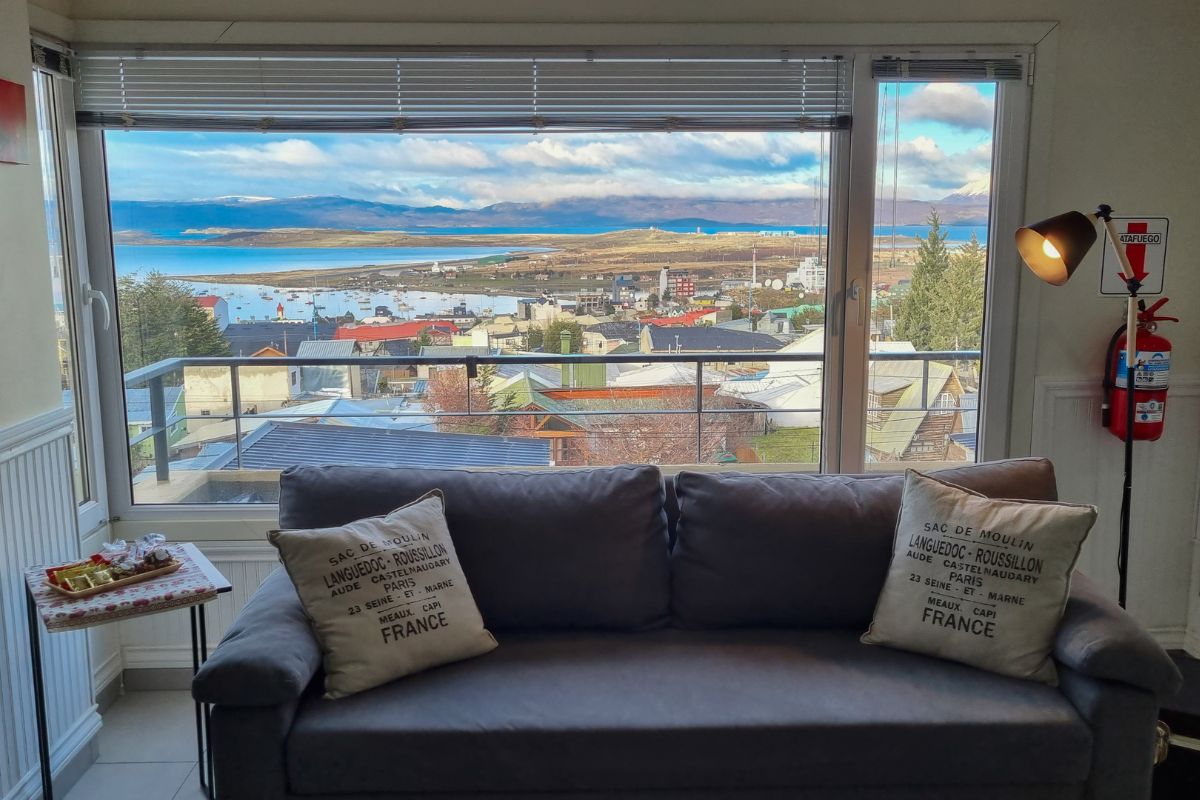 Cabins in Ushuaia
Another economical option is the cabins in Ushuaia, ideal for those looking for a more rustic and cozy experience. Many cabins are located in natural environments, surrounded by forests and mountains, giving you a quiet and relaxing environment. This type of accommodation often also has a kitchen, allowing you to prepare your meals at your own pace and save on extra expenses. Additionally, some cabins offer additional services, such as laundry, linen change, dining services, and even access to outdoor grills, ideal for enjoying a traditional Argentine barbecue.
In Ushuaia, the owners of the cabins are usually people passionate about travel and tourism. They are committed to providing their guests with an enjoyable experience and the utmost hospitality. These hosts care about every detail, from making sure you feel comfortable in your room to providing you with helpful information about the best places to visit in the city. Their friendly and close treatment will make you feel at home, and they will be happy to help you with any questions or requests you may have. You can count on them for local recommendations and valuable tips that will make your trip even more special.
Hostels in Ushuaia
If you prefer a more social experience and meet other travelers, the hostels in Ushuaia They are the perfect option for you. These establishments offer shared dormitories at very affordable prices, making them an excellent alternative for travelers on a budget. There is a wide variety of hostels in the city of Ushuaia, some of them even offer private rooms for groups or exclusively for women.
Hostels in Ushuaia have a vibrant and lively atmosphere that makes them ideal places to meet other travelers from around the world. These properties often offer common areas, such as shared living rooms and kitchens, where guests can gather, exchange travel stories, and make new friends. The atmosphere in hostels is very sociable, and it is common to organize group activities, such as excursions or themed dinners, which encourage interaction between guests. If you are looking for a fun experience full of camaraderie, staying in a hostel in Ushuaia will be an excellent choice. You never know who you'll meet during your stay in a hostel!
We do not want to fail to mention the Apart Hotel in Ushuaia or our selection of cheap hotels in Ushuaia as other interesting options.. These can be a useful alternative if you are looking for the comfort that hotels provide in combination with affordable prices.
Benefits of cheap accommodation in Ushuaia
In addition to the affordable price, one of the advantages of these accommodations is that they are usually equipped with amenities that will make you feel at home. Many temporary apartments, cabins, hostels and hostels offer services such as a shared kitchen, refrigerator and washing machine. These facilities allow you to save even more money by preparing your own meals and doing your own laundry without having to resort to outside services. Some accommodations even include spaces specially designed for drying winter clothes, which is especially useful in Ushuaia, where snow is a constant during the winter season.
A great advantage of these cheap accommodations is that, if you travel in a group or with friends, you can share the costs and make the stay even more economical. By dividing the expenses between several people, the price per night becomes even more convenient. Imagine having the opportunity to explore Ushuaia and enjoy its natural wonders without having to spend a fortune on accommodation. Sharing a temporary apartment, cabin, or hostel room can be a great option to optimize your budget and put those savings towards other exciting activities during your stay.
In addition to the economic benefits, these accommodations give you the flexibility to adjust your itinerary and enjoy Ushuaia at your own pace. You can organize your own excursions, explore the beautiful trails and national parks of the region, and return to your accommodation without worrying about the schedules established by conventional hotels.
Ushuaia offers a wide range of affordable accommodation options that adapt to all tastes and needs. Don't let budget be an obstacle to enjoying this incredible city. Explore alternatives accommodations in Ushuaia that we share with you and choose the one that best suits your preferences and pocket.
Get ready to live adventures in the middle of spectacular landscapes without spending a fortune on accommodation! Ushuaia awaits you with open arms, ready to show you its natural beauty and Argentine charm. Do not miss it! Start now Plan your trip to Ushuaia with Tourism in Ushuaia.