3 Unmissable places to eat in Ushuaia
3 places to eat in Ushuaia and delight your palate
If you are planning a trip to Ushuaia, one of the most beautiful cities in the south of Argentina, you cannot miss the incredible gastronomic offer that this Patagonian jewel has to offer you. Also known as "The End of the World", Ushuaia will not only surprise you with its natural beauty and picturesque atmosphere, but also with its delicious restaurants and culinary options. In this note, we present three unmissable places to eat in Ushuaia that will leave you wanting to come back for more.
Enjoy authentic Fuegian cuisine in these outstanding restaurants
Ideal Bar
We start our list with the Ideal Bar, an emblematic place in Ushuaia that has been serving locals and tourists for decades. Located in the heart of the city, this restaurant is recognized for its authentic Fuegian cuisine and its friendly atmosphere. Here you can delight in exquisite seafood dishes and fresh fish, such as crab, black hake and salmon, masterfully prepared by its talented chefs. Among its unique dishes, you cannot miss trying the famous crab au gratin, one of the most requested at Bar Ideal.
Those who visit Bar Ideal highlight both the quality of the food and the atmosphere. The fresh seafood and seafood served in the restaurant leave a mark on the diners' memories. The freshness and flavor of the ingredients demonstrate Bar Ideal's commitment to culinary excellence.
In addition to the food, the cozy and warm atmosphere of Bar Ideal is another of its greatest attributes. The friendly attention and efficient service of the staff, the traditional decoration and the feeling of being in an authentic Fuegian restaurant add a special touch to the dining experience.
There is no doubt that Bar Ideal is a must-see place for lovers of Fuegian cuisine in Ushuaia. If you are looking for an authentic and delicious culinary experience, you cannot miss visiting this iconic restaurant. A gastronomic adventure that you cannot miss!
Alakush Center
If you recognize yourself as a meat lover and are looking for a unique proposal, the Alakush Center It is the right place for you. This restaurant specialized in roasts and grills will surprise you with its selection of premium, tender and juicy cuts of meat. Here you can enjoy a traditional Patagonian lamb, a juicy chorizo ​​steak or an exquisite vacuum cut, accompanied by delicious side dishes and an extensive Argentine wine list. The rustic and cozy atmosphere of the Alakush Center, added to the warm and friendly attention of its staff, will make your experience unforgettable.
Centro Alakush's commitment to quality is reflected in every aspect of the dining experience. The selection of fresh and local ingredients, combined with the experience of its talented chefs, guarantees dishes that will delight your palate. In addition, its extensive Argentine wine list perfectly complements the meats and enhances the flavors of each bite.
Located in a stunning natural environment, within the Tierra del Fuego National Park, just a few minutes from the city center, gives you the opportunity to enjoy an unforgettable meal in an authentic atmosphere. It also has an interpretation area and there you can receive tourist information to fully enjoy your visit to the End of the World.
Thus, if you are planning to tour the Tierra del Fuego National Park, reserve time to visit Centro Alakush either to have a coffee, enjoy a snack or a full plate from their fantastic menu.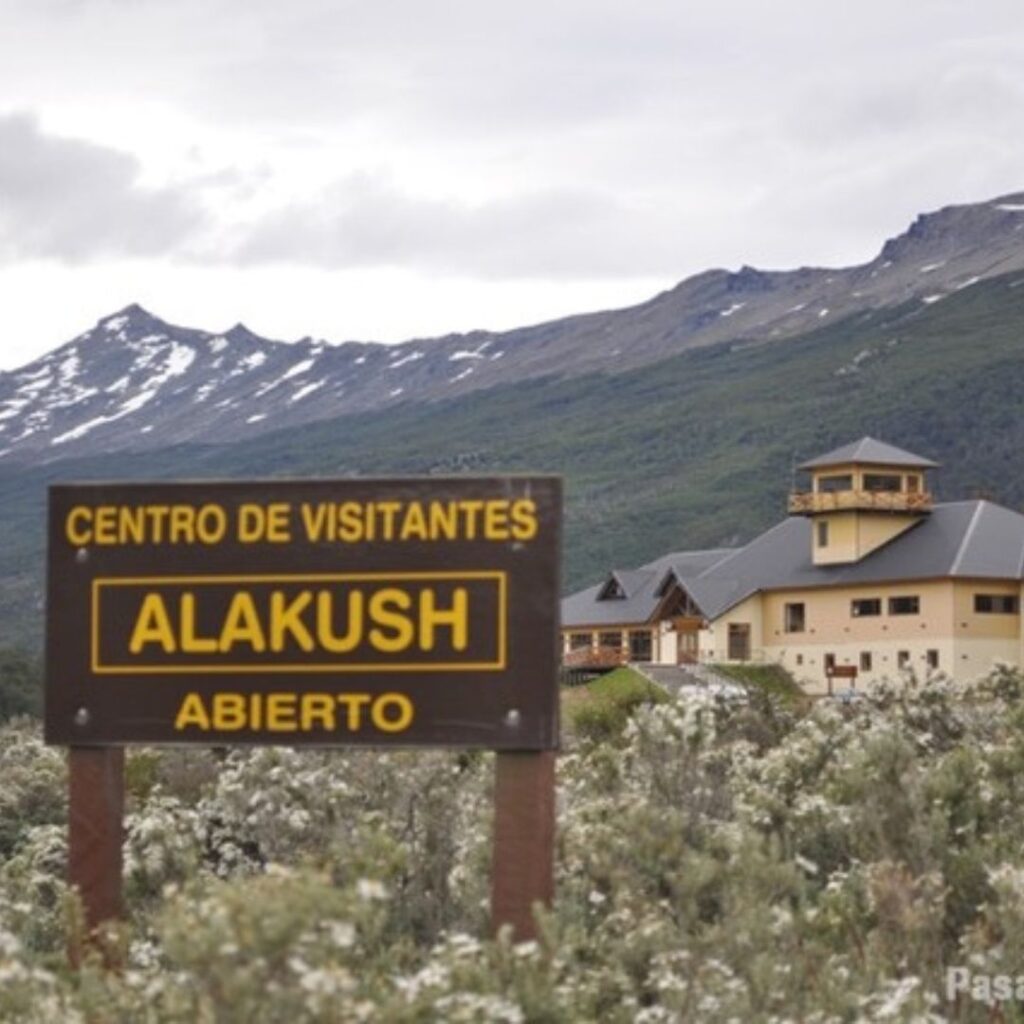 The General Store
To immerse yourself in the history and culture of Ushuaia while enjoying a good meal, you cannot miss visiting El Almacén de Ramos Generales. Located in an old warehouse from the early 20th century, this restaurant offers a gastronomic proposal that combines local flavors with regional products.
Preserving its original structure and many of its historical objects, the restaurant has created a charming and nostalgic atmosphere that transports you to the days of the pioneers of Ushuaia. Visitors always praise the careful preservation of the history and authenticity of the place.
The proposal of El Almacén de Ramos Generales stands out for its typical and traditional dishes as the protagonists of the menu. Here you can try regional flavors such as lamb casserole, guanaco stew or Fuegian empanadas, accompanied by delicious wines and craft beers. In addition, you can tour the place and discover the ancient objects that decorate the restaurant, transporting you back in time to the time of the pioneers of Ushuaia. The combination of local aromas and regional products highlights the culinary identity of Ushuaia.
In addition to the food, the warm and friendly service of its staff is another characteristic of the restaurant. Visitors often highlight the personalized attention and willingness of their hosts to tell stories and share knowledge about the history of Ushuaia and the restaurant. This attention to detail and passion for local history makes the experience at El Almacén de Ramos Generales even more enriching.
Visiting El Almacén de Ramos Generales is more than visiting a restaurant, it is an opportunity to immerse yourself in the history of Ushuaia and enjoy the authenticity of traditional Fuegian cuisine. If you are looking for a dining experience that combines history, culture and delicious food, this place is a must-visit during your stay in Ushuaia.
These are just three of the many wonderful places to eat in Ushuaia. The city offers a wide variety of dining options to suit all tastes and budgets. From gourmet restaurants to fast food stands, Ushuaia has something for every palate. No matter which one you choose, we assure you that you will experience unique flavors and unforgettable moments. You can find out many other alternatives in the section Where to eat in Ushuaia from our blog.
Remember that this list is just a small sample of Ushuaia's incredible culinary offering. As you explore the city, you will come across other restaurants and venues that are also worth visiting. Don't hesitate to venture out and discover your own favorite places to eat in Ushuaia! Bon appetit and enjoy your gastronomic experience in Ushuaia to the fullest.
If you are interested in knowing more about the activities to do in Ushuaia , where to sleep in Ushuaia or more options to eat in UshuaiaTourism in Ushuaia is the right place. Keep browsing our website and find everything you need to Plan a complete trip to Ushuaia . We will wait for you!