5 unmissable bars you can't miss in Ushuaia
First class cocktails in Tierra del Fuego: 5 must-visit bars in Ushuaia
If you are thinking of visiting the southernmost city in the world, you should know that it is not only known for its natural beauty and unique landscapes, but also for its delicious gastronomy and the numerous cocktail proposals offered by the city's bars and pubs. In this article we recommend 5 unmissable bars that you cannot miss during your stay in Ushuaia.
If there is something Ushuaia is not lacking, it is a variety of options of activities to delight the senses. As far as gastronomy is concerned, you can find from haute cuisine restaurants to more informal places, as well as bars specialized in cocktails and drinks. The city has a wide range of establishments for all tastes and budgets. What is even more interesting is that each one of these gastronomic establishments has its own technique and imprint, which makes the culinary experience in Ushuaia even more diverse and exciting.
Although it is not easy due to the immense variety of options, experiences and flavors, below we share a selection of 5 unmissable bars worth visiting in Ushuaia. Each one of them fuses local ingredients with the best spirits and cocktails in a unique atmosphere that always has the imprint of local history. Stories, protagonists, rituals and mysteries are mixed in the cocktail shaker to be served in the glass of anyone who dares to savor the End of the World.
This fantastic restaurant in Ushuaia offers a wide variety of tapas and snacks, accompanied by the best cocktails and beers of all kinds. Among the most popular is the Expresso Martini, a drink that seduces with its unique coffee flavor.
Club 1210 offers a fantastic gastronomic experience in Ushuaia since it stands out for its unequaled atmosphere, always ready to offer visitors a good time. If you are passing through Ushuaia and you are interested in its bars and cocktail bars, this is a visit you won't want to leave out of your itinerary.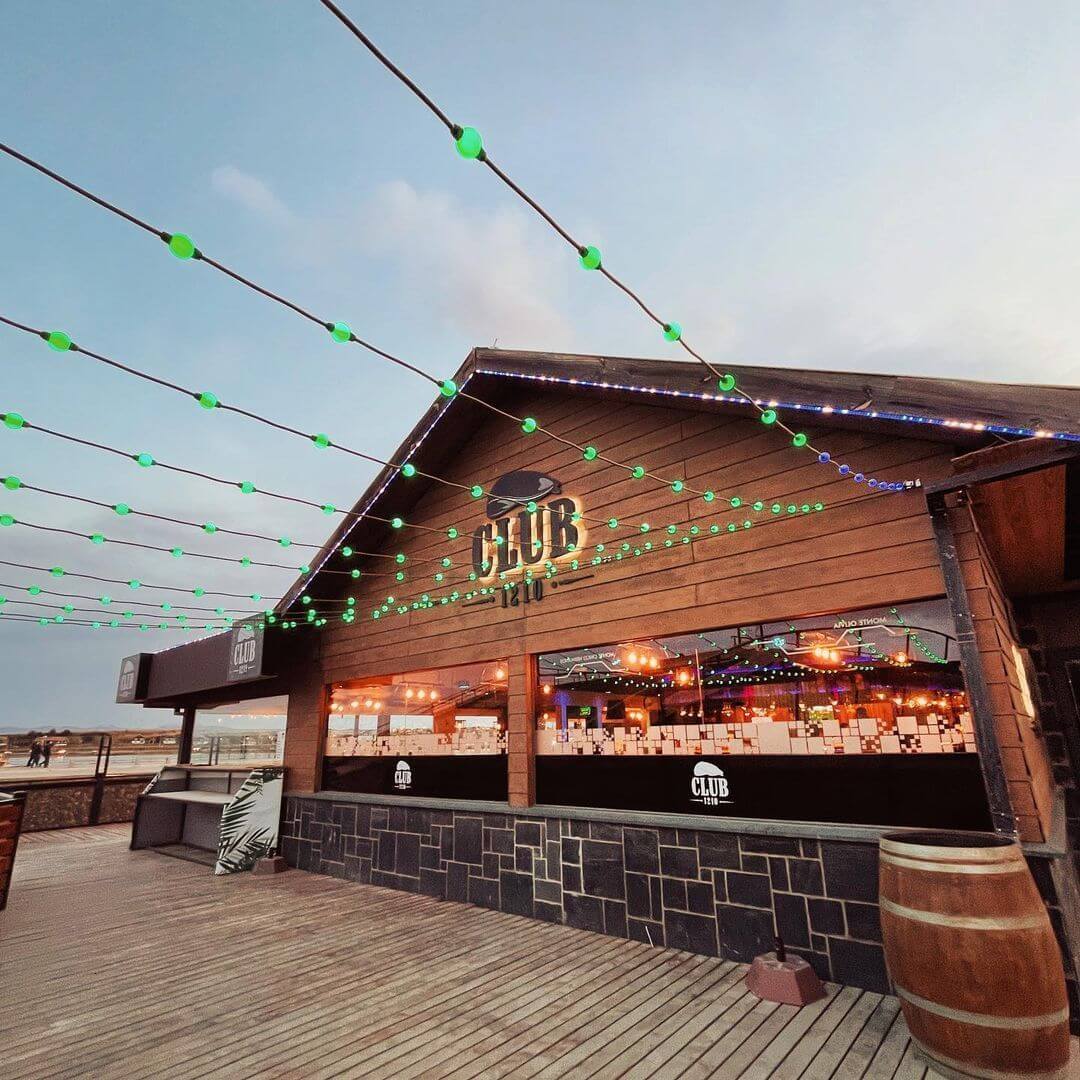 If you like signature cocktails and good food, Krund Ushuaia is the right place for you. In this Antarctic bar and restaurant you can try a wide variety of craft cocktails and accompany them with the best tapas and snacks.
Krund Ushuaia proclaims itself as a haven for friends, offers

live music shows in Ushuaia

and the best ambience. It is an ideal place not only to taste excellent dishes but also to spend a pleasant moment.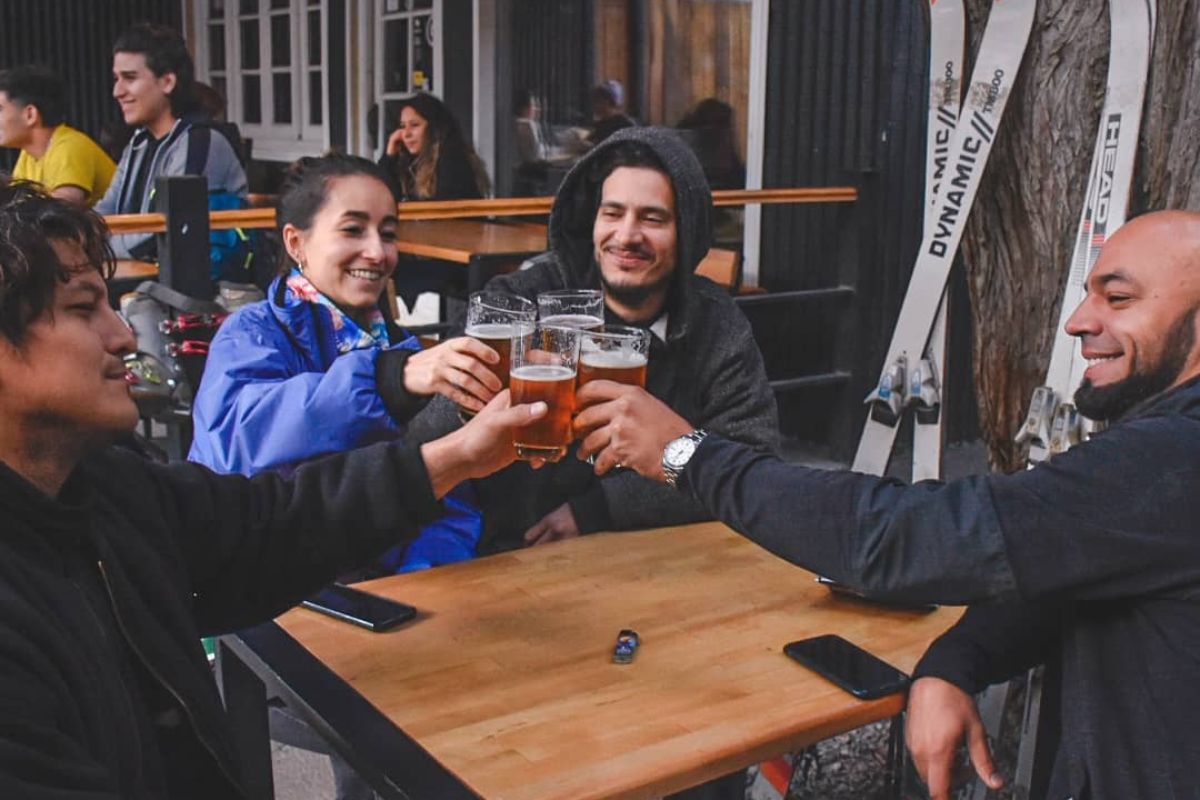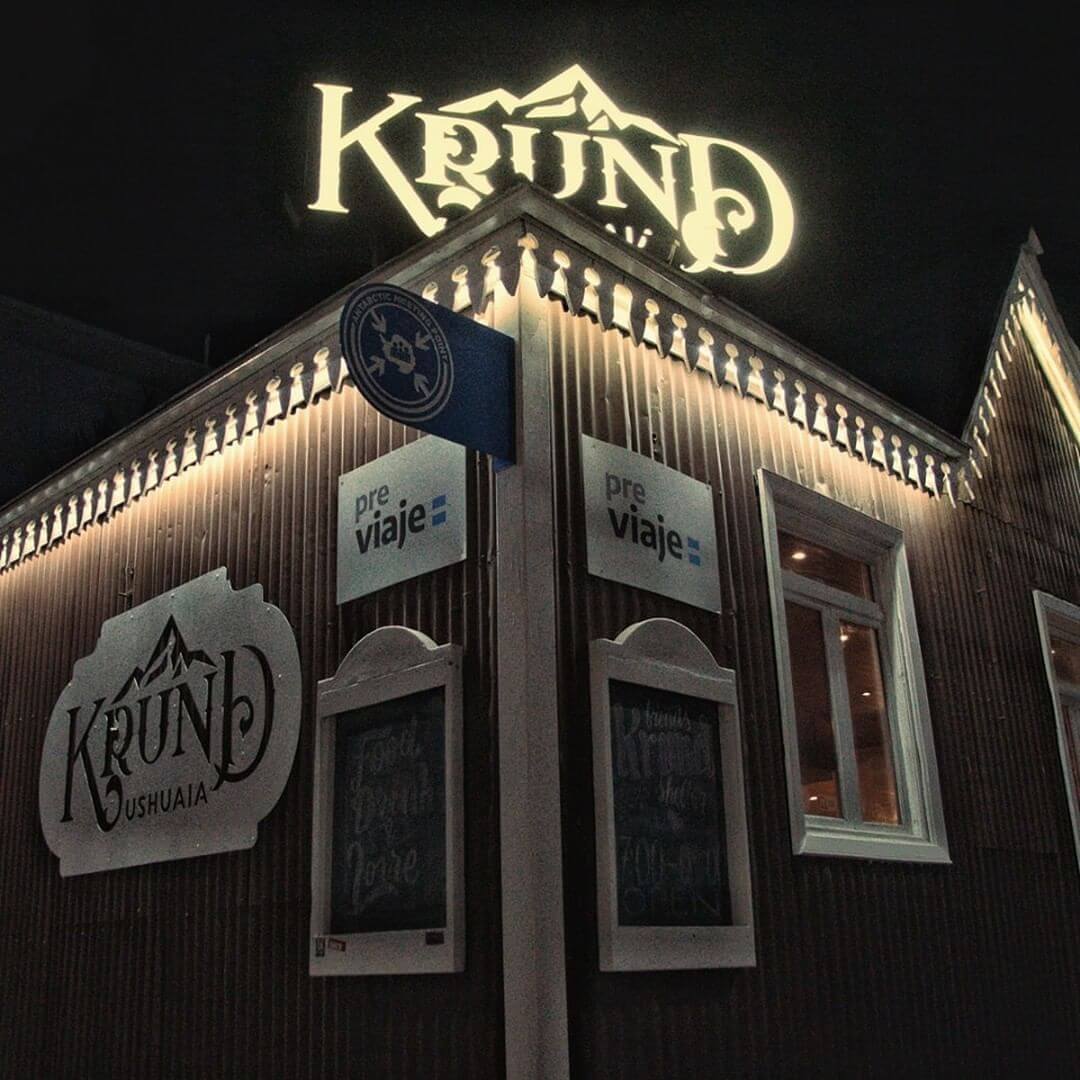 This amazing bar combines two fantastic attractions of Ushuaia: a privileged view of the Beagle Channel and the

view of the Beagle Channel

in conjunction with the best Patagonian flavors. Its menu is varied, with dishes for all tastes with casserole, vegetarian, vegan and signature options.
The Antarctic restobar offers different types of experiences in one place. You can choose between formal options in the lounge by the fire pit or with a view of the Beagle Channel or a more informal alternative at the bar or in the private area.
Craft beer is the guest of honor at Küar's tables, where it is served in its most typical version, combining the best malts with native flavors of the local nature.
If you are passionate about the world of cocktails, you can not miss Jeremy Button Gintonería. This bar specialized in gin and tonic offers a wide variety of more than 50 gins and tonics for you to find your ideal cocktail. In addition, its menu of tapas and dishes to share is perfect to accompany your drinks.
The gintonería par excellence of Ushuaia gathers not only the best drinks and cocktails but also a friendly and pleasant atmosphere always available to have a good time. Your hosts will be available to advise you on the best choice of drinks and culinary proposals. This fantastic bar is located on the shores of the Beagle Channel, offering a wonderful view of the coast of Ushuaia. A golden brooch for an evening that has a direct impact on the senses.
To close our list of 5 must-visit bars in Ushuaia, we present Moat, a restaurant that fuses the best tapas with signature cocktails. Attention with this clarification: visiting Moat is "only for intrepid spirits". Have you tried the coffee tonic? We assure you that you will not regret your visit to this spectacular intrepid bar.
Its menu includes numerous tapas that will not leave you indifferent. You will be able to combine the different dishes with cocktail options or the beer of your choice. Is there a better plan? If you plan to travel to Ushuaia, Moat is almost a must-see.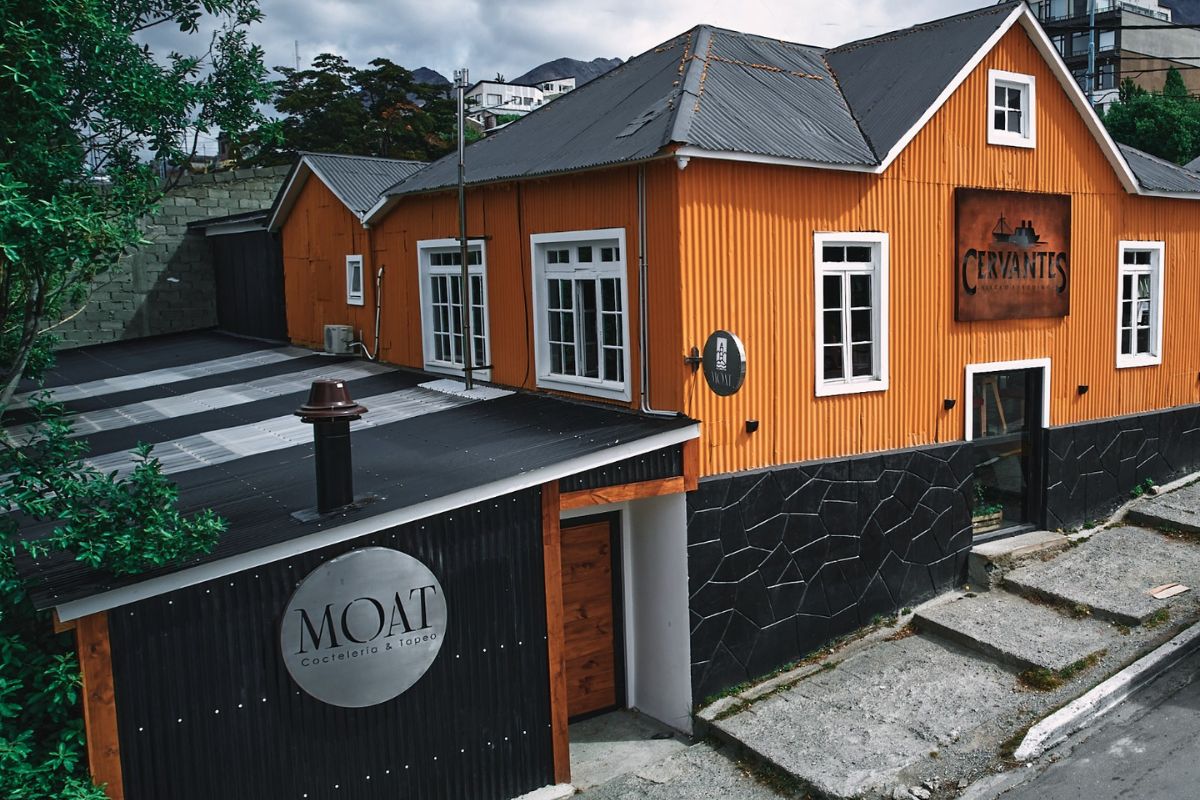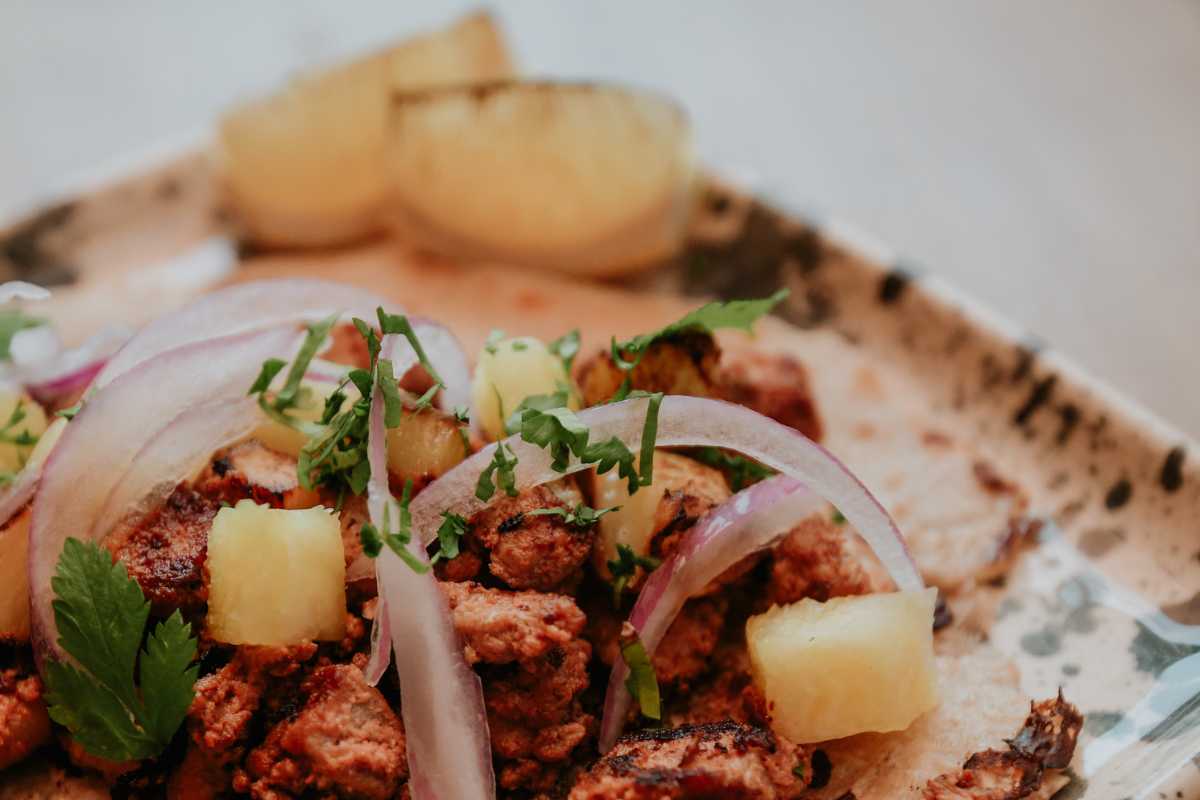 Ushuaia's unique gastronomy: fusion of flavors, techniques and ingredients
Ushuaia's gastronomy is unique for several reasons. First of all, the city is in a prime location, which means it has a wide variety of fresh, local ingredients. But that's not all. It is deeply rooted in its culture, where the different gastronomic establishments seek to offer the best menus, drinks and experiences to diners while preserving the traditions and roots of the first settlers.
Ushuaia's gastronomy also stands out for its fusion of flavors and culinary techniques. You can find influences from Spanish, Italian and Argentinean cuisine, as well as from the cuisine of the native peoples of the region. If you are passionate about architecture, you can make a tour that combines

gastronomy and architecture

in the city.
As you will notice, in Ushuaia there is the possibility of enjoying first quality seafood and fish, such as spider crab, black hake, salmon and river trout, as well as very particular tapas options due to their distinctive ingredients and unique combinations. There is also, of course, a great variety of lamb and beef from the Argentinean Patagonia. For more information about the various options, we recommend you visit our exclusive section on where to eat in Ushuaia. We also invite you to learn more about the prices of the dishes in the note on

how much does it cost to eat in Ushuaia

.
And now that you know these five recommended restaurants in Ushuaia, don't forget to also enjoy all the tourist attractions and

excursions

that this city has to offer, such as the Tierra del Fuego National Park, the Beagle Channel, Cerro Castor, the Presidio Museum and much more. We assure you that you will not regret visiting Ushuaia!