What to do with the car in Ushuaia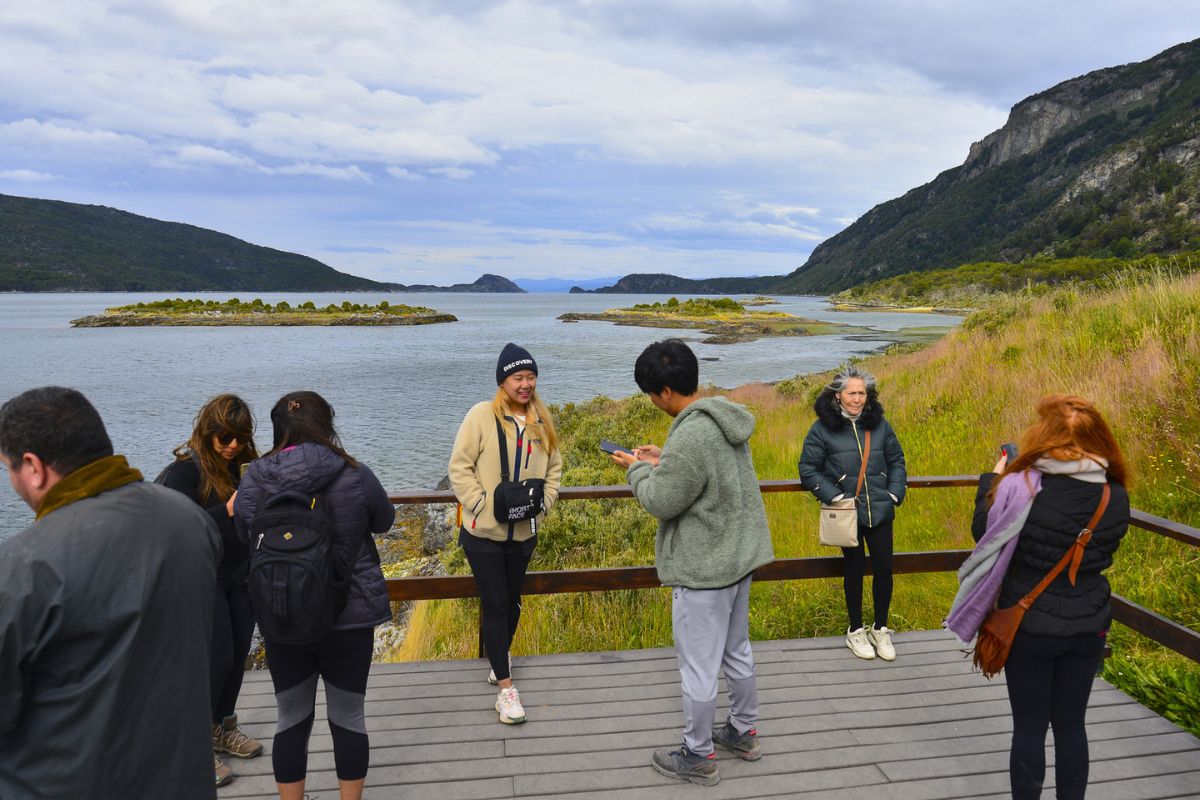 Discover Ushuaia by car: see everything you can do
If you plan to arrive to Ushuaia by car or decided to rent one at your destination, congratulations! You are about to live an unforgettable experience in the extreme south of Argentina. With your own vehicle, you will have the freedom to explore at your own pace and discover some of the most amazing destinations this region has to offer. Get ready for a unique and exciting adventure. Here we are going to tell you everything about the must-see places that you should visit in Ushuaia.
1. Tierra del Fuego National Park: an encounter with nature
Tierra del Fuego National Park It is a natural gem that you cannot miss. It is located just 12 kilometers west of Ushuaia, making it an easily accessible destination by car. This park spans approximately 70,000 hectares and offers a wide variety of activities for nature lovers.
If you like hiking, here you will find numerous trails of different levels of difficulty, all of them well signposted and with useful information to ensure your safety. If you want to know more about hiking, we recommend visiting the best 10 treks to do in Ushuaia. You also have the option of embarking on an exciting canoe tour through its rivers or enjoying fishing in this unique natural environment.
One of the peculiarities of this park is that it is the only one in Argentina that is located between mountains and the sea, since it borders the Beagle Channel at one end. During your visit, you will be able to observe a varied southern fauna, which includes the red fox and the Patagonian thrush. In addition, you will be impressed by the diversity of trees that form dense forests. The contrasts that this geography offers will amaze you.
2. Winter centers: a paradise to discover
A few kilometers from the city of Ushuaia, you will find the different winter centers such as Greater Land, Cerro Castor, Nunatak, beautiful valley and many more.
With your car, getting to the different winter centers is easy and convenient, since their entrances are accessible through National Route N°3. Here, you can enjoy exciting days of hiking, walks through the forest and snowshoeing in winter. If you don't have equipment to do Outdoor activities, don't worry, in Tourism in Ushuaia you can get them, in our exclusive section of outdoor rental in Ushuaia . In the winter centers, you will also find a variety of restaurants and cafeterias where you can enjoy delicious typical cuisine options and admire the impressive panoramic views.
3. Fagnano and Escondido Lakes: the wonder of the Fuegian Lakes
Another essential tour that you can take with your car is the exploration of the well-known Fuegian Lakes.. Taking National Route N°3, approximately 60 kilometers north of Ushuaia, you will begin this exciting journey.
The first destination on your list is Garibaldi Pass, where you can enjoy unforgettable views of Lake Escondido and the mountain range that surrounds it.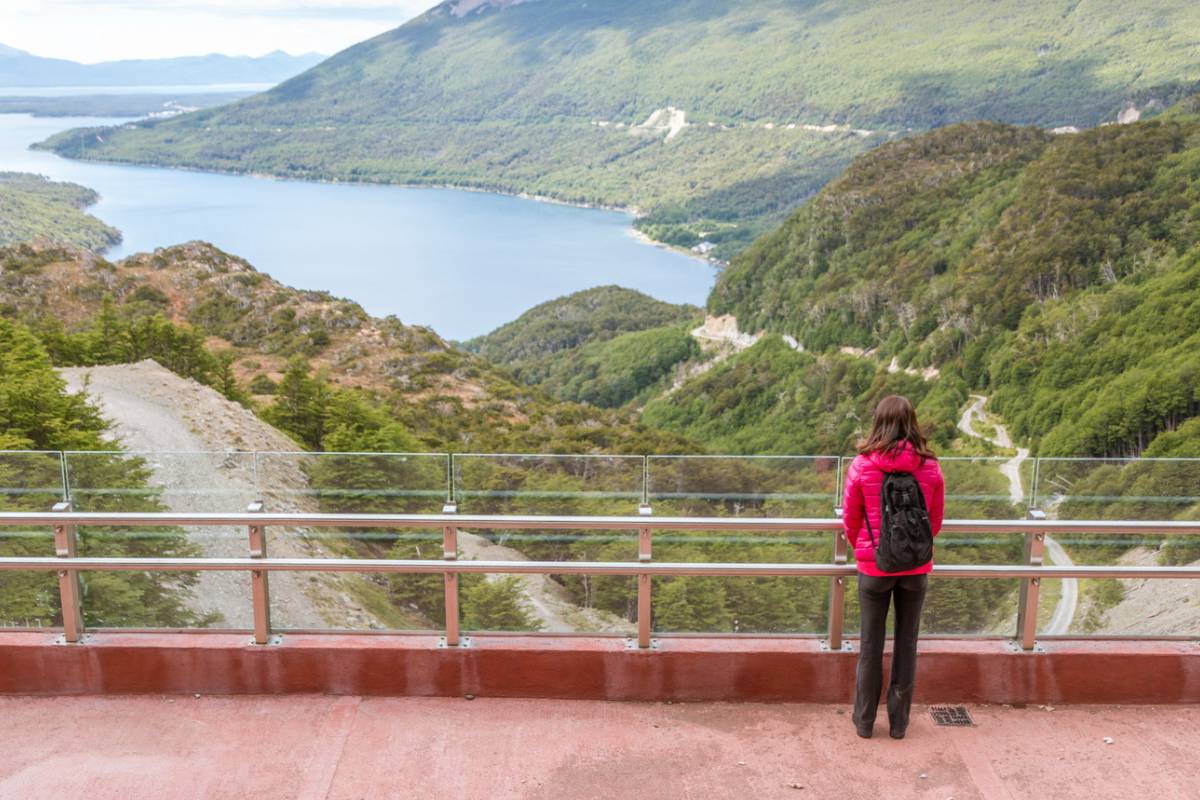 Then, continue your adventure about 40 kilometers further north to reach the majestic Lake Fagnano, which stretches for 100 kilometers. This lake is the head of Tolhuin, the youngest town on the island, and another point of great interest on this trip. Landscapes that combine sea and mountains will leave a lasting impression in your memory.
It is important to keep in mind that during the winter seasons, you should check the condition of the roads that lead to these lakes due to weather conditions that may affect their passability. Learn more in our note Tips to fully enjoy your visit to Ushuaia .
4. Cabo San Pablo: a scenic and historical journey
Having your own vehicle allows you to make longer distance getaways and Tierra del Fuego has everything to make this worthwhile. If you want to go a little further from Ushuaia, we recommend heading towards Cabo San Pablo. The trip will take you along National Route N°3 and then along the complementary route "A" for approximately 40 kilometers to the coast. From Ushuaia, it is around three hours of travel, but every minute is rewarded.
The road itself is a scenic experience, with picturesque ranches surrounded by mountains, forests, rivers and unique panoramic views. Upon arrival, you will find a car parking area that will take you to the top of the cape. Here, you'll discover viewpoints with 360-degree views, useful information, and benches where you can rest after a rewarding hike.
Among the notable sights is an old leaning lighthouse, a unique feature of the place. You will also be able to see the impressive remains of the ship "Desdémona", which ran aground in Cabo San Pablo in 1985. This place will immerse you in the history and natural beauty of Tierra del Fuego.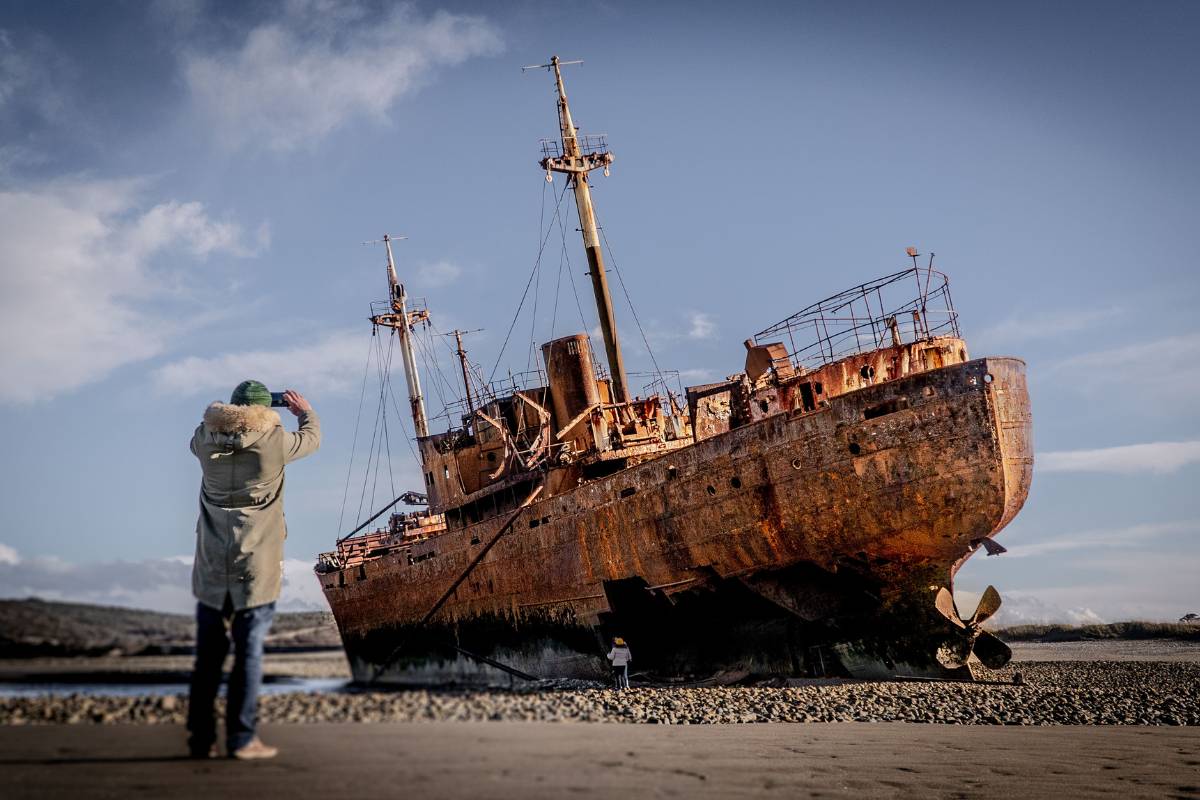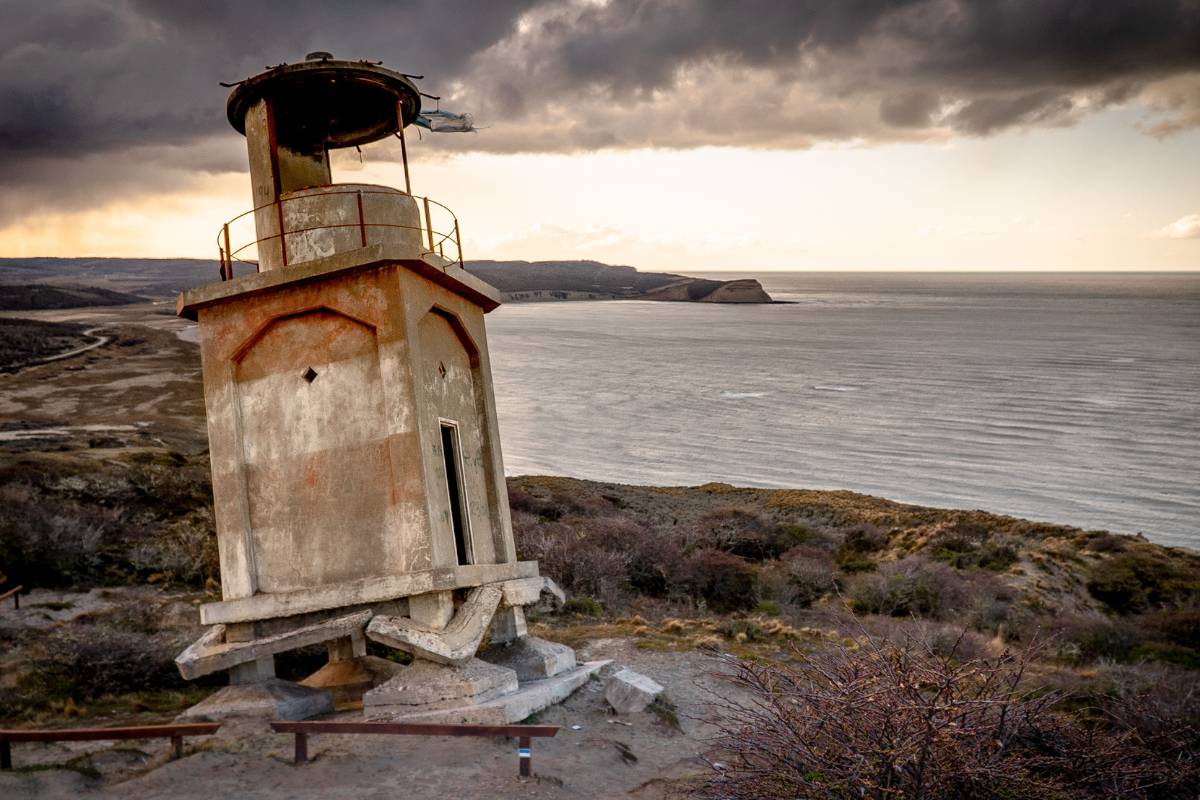 5. Puerto Almanza: town with history and gastronomic delights
Located approximately 75 kilometers south of Ushuaia, Puerto Almanza is a must-see destination. Driving through National Route N°3 and then taking Provincial Route J, you will reach this coastal area rich in history and gastronomy.
In Puerto Almanza, you will have the opportunity to enjoy various gastronomic proposals. The main economic activity of its inhabitants is related to fishing for seafood offered by the Beagle Channel. One of the biggest attractions is artisanal crab fishing, a culinary experience that you will not want to miss on your visit to this Fuegian region. To find out more places where you can find this traditional End of the World dish, visit our note Where to eat crab in Ushuaia .
Advantages of Renting a Car in Ushuaia
Now that you know these must-see destinations in Ushuaia, it is important to understand why renting a car in this region is an excellent decision. Here are some key advantages you will enjoy by having your own vehicle in Ushuaia:
Independence and Freedom: Having your car gives you the freedom to create your own itinerary and explore at your own pace. You will not be limited by tour schedules or public transportation.

Access to remote destinations: Many of the most amazing places in Ushuaia are located in remote areas or outside the city. A car allows you to easily reach these destinations, such as Tierra del Fuego National Park or Cabo San Pablo.

Avoid waiting: During peak season, public transportation service can be congested, resulting in long waits. Having your own car allows you to avoid these delays and make the most of your time.

Complete Exploration: With a vehicle, you can more completely explore the landscapes and history of Tierra del Fuego. You will have the freedom to stop at viewpoints, take roads less traveled and experience the true essence of this region.

Flexibility: Having your car means you can decide where and when to stop. Whether to take photographs, enjoy a picnic in a natural setting or simply rest.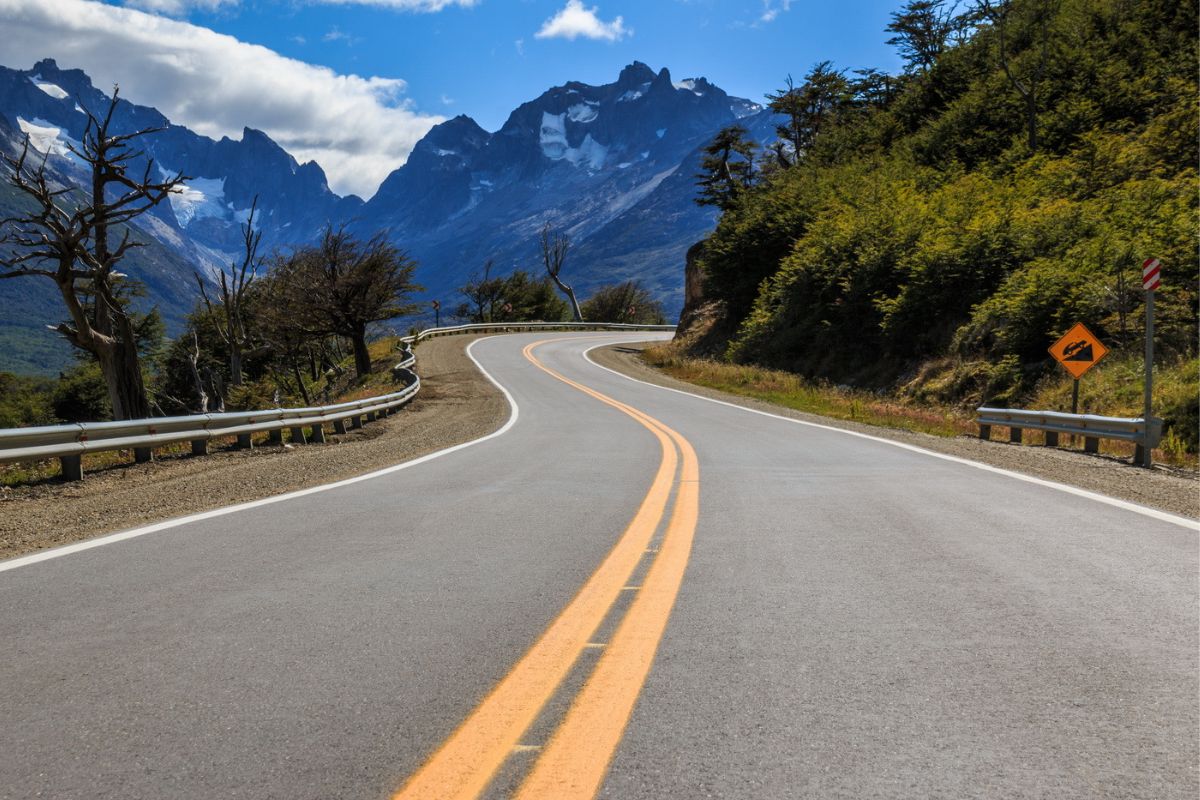 Renting a car in Ushuaia gives you the opportunity to fully explore this spectacular region in Argentina where there is so much to see and do.
If you are planning your trip or want more information about car rental prices in Ushuaia, we invite you to explore our complete offer of available vehicles. We are here to help you make your adventure at the end of the world an unforgettable experience.
The independence and flexibility you gain by having your own vehicle allow you to enjoy each destination to the fullest, without worrying about the schedules or limitations of public transportation. So, prepare your trip, reserve your car in advance and get ready for a unique experience at the end of the world.