Where to ski in Ushuaia?
Where to ski in Ushuaia in winter: Guide to the best Ski and Snowboard slopes
For winter sports lovers and those looking for destinations to practice skiing or snowboarding in Argentina, Ushuaia is an excellent option. With its strategic location in the southern tip of Argentine Patagonia, the city offers a wide variety of places for snow activities, both for beginners and experts. Furthermore, its cold climate and excellent quality snow guarantee a long and exciting winter season that can extend from June to mid-October inclusive. Below you will find a review of where to ski in Ushuaia and enjoy the southernmost snow in the world.
Alpine skiing or cross-country skiing
Before we dive into our guide to the best places to ski or snowboard in Ushuaia, it's important to understand the differences between downhill skiing and cross-country skiing.
Alpine skiing, also known as downhill skiing, is performed on prepared and marked slopes. Skiers use lifts to climb to the top of the mountain and then descend the slopes using different turning and braking techniques. Alpine skiing is divided into different disciplines, such as slalom, giant, super-G and downhill.
On the other hand, cross-country skiing, also known as Nordic skiing, is done on flat terrain or with gentle slopes. Skiers use longer, narrower skis than downhill skis, and propel them forward using pushing and sliding movements. Cross-country skiing is divided into different disciplines, such as classic style and freestyle.
Where to ski in Ushuaia: alpine skiing style
Now that we know the differences between alpine skiing and cross-country skiing, let's look at some recommendations for places to do these activities in Ushuaia.
Cerro Castor
Cerro Castor It is the most recognized ski center in Ushuaia and the most chosen by skiers who visit the city. It has 34 slopes of different levels of difficulty, which extend over more than 650 hectares of skiable terrain. It also has a ski school, equipment rental and several restaurants and bars. In addition, the ski season in Cerro Castor is one of the longest, snow activities are usually enabled from mid-June to mid-October, which makes it an excellent option for those looking to enjoy a long snow season. .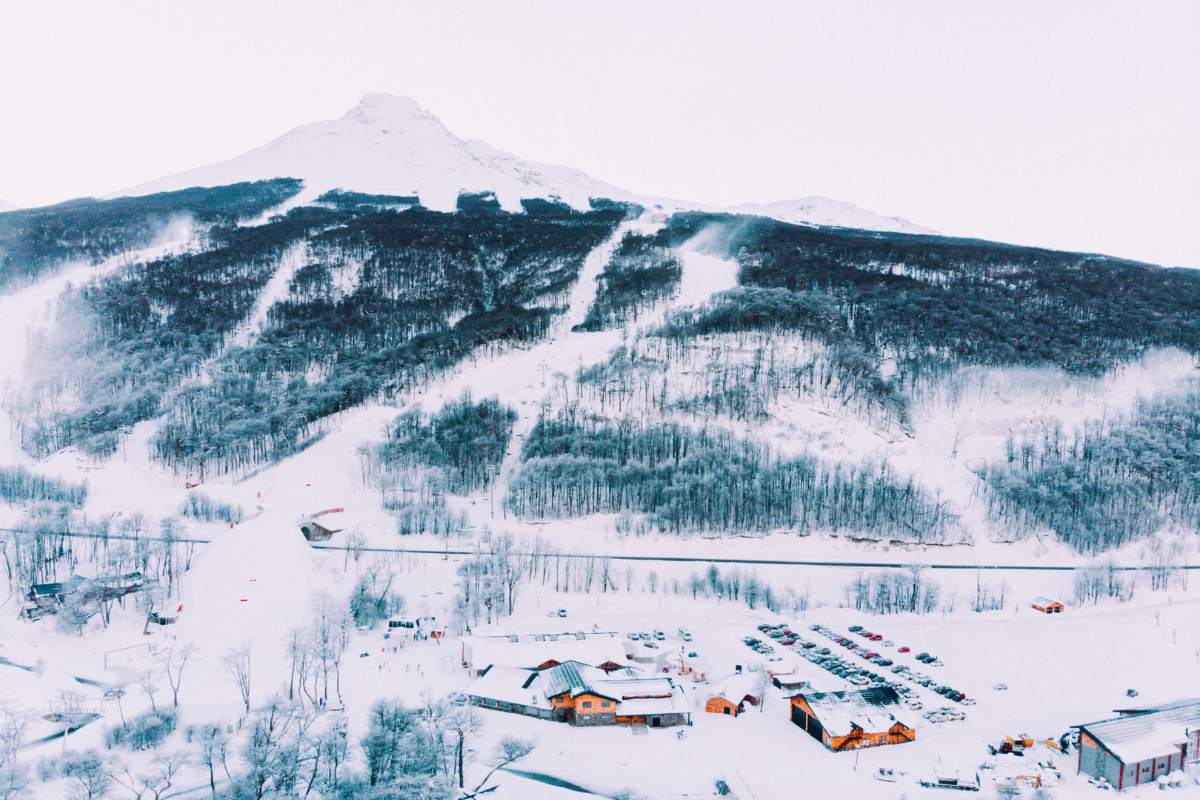 Martial Glacier
Another recommended place to practice alpine skiing in Ushuaia is the slope located in the Martial Glacier. Just 7 kilometers from the city, you can enjoy a free ski slope, choose to take classes at the ski school and also hire the equipment rental service. One of the advantages of skiing at the Martial Glacier is that it offers a stunning view of the city of Ushuaia and the Beagle Channel. In addition, it is also known for its family atmosphere, perfect for spending a day playing with snow sleds.
Ushuaia is an ideal destination for lovers of alpine skiing. Both Cerro Castor and Glaciar Martial offer a wide variety of slopes and services to enjoy an exciting skiing experience. In addition, the natural beauty of the Patagonian landscape is an additional advantage that makes skiing in Ushuaia a unique and unforgettable experience.
Where to ski in Ushuaia: cross-country skiing style
Cross-country skiing in Ushuaia is a very entertaining activity, which allows you to enjoy the snowy landscapes in a unique way. There are numerous routes and proposals for cross-country skiing, which is also an activity that can be done without complications with the family or with a group of friends. In the Tierra Mayor Valley there are numerous slopes to visit individually or by hiring classes. Some of the winter centers that offer this type of activity are: Tierra Mayor , Las Cotorras , Nunatak , Haruwen and Llanos del Castor .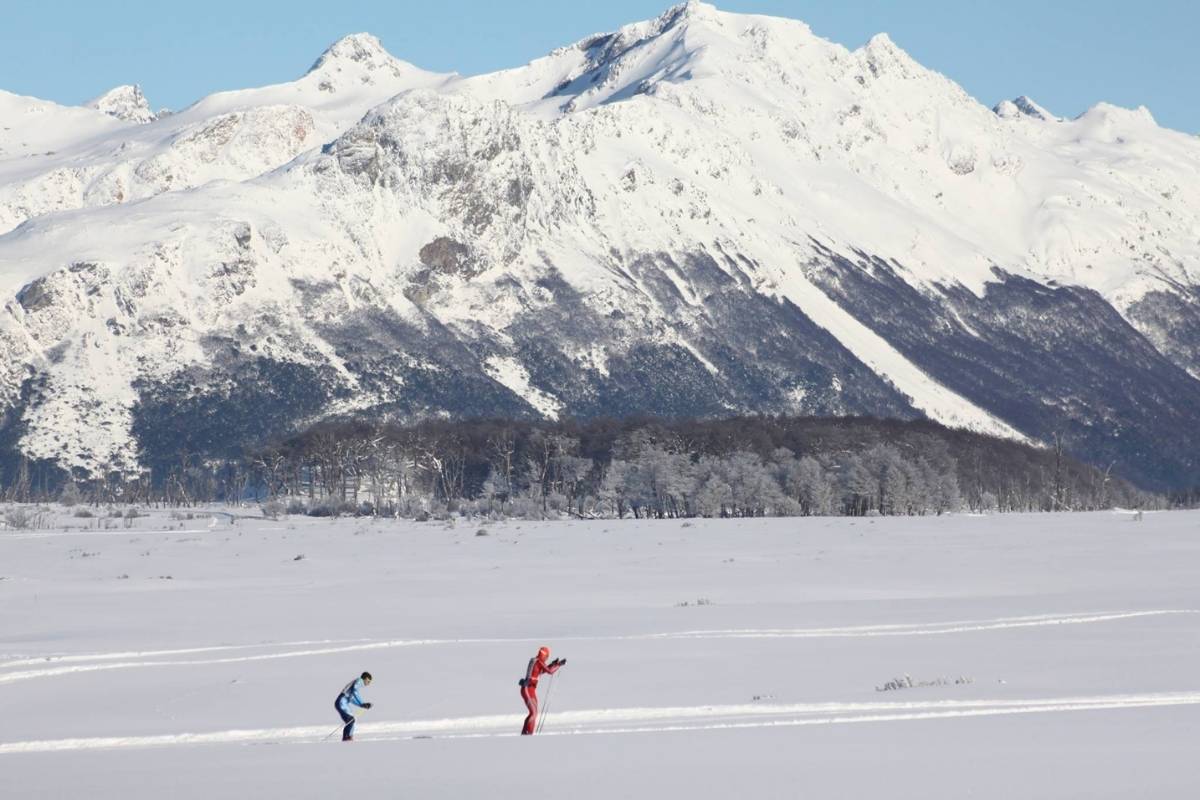 Where to snowboard in Ushuaia
Ushuaia also offers incredible experiences for Snowboard lovers. The Cerro Castor Winter Center is one of the most chosen destinations, with an exclusive park with 4 hills for jumping, an area for beginners with gentle slopes and different options of boxes and rails for the most experienced in Freestyle. The Martial Glacier is also a great option for those new to the activity, with a moderate slope and the possibility of taking classes on the ski school that is located there. Both places are perfect to enjoy fantastic days of snowboarding.
Splitboard and ski touring, mountain adventure
Within the variety of snow sports, splitboarding or adapted snowboarding as well as ski touring are gaining more and more followers. This activity offers a combination of unique experiences as it allows you to climb through virgin snow in the mountains and then descend in a unique way. The splitboard consists of two boards that are used separately to climb the mountain and later joined together to become a type of snowboard and facilitate the descent. There are multiple experiences of splitboard in Ushuaia , all of them guarantee unique views and the greatest fun.
Proper care and equipment
It is important to remember that skiing is a physical activity that carries certain risks. It is important to follow safety rules, use the proper equipment, and respect the instructions of ski professionals to enjoy a safe and enjoyable experience.
Equipment for activities such as skiing or snowboarding, as well as the required clothing, can be rented at the different rental stores found in the city of Ushuaia. There you can find, in addition to boards, boots and poles, goggles, helmets, gloves, waterproof jackets and pants, as well as apreski or snow boots. It is not necessary to buy these types of accessories, which are generally very expensive, if they will not be used during the year. In this way, you also contribute to greater sustainability by choosing to rent and not buy clothing.
If you are looking for a place to ski in Argentina, Ushuaia is an excellent option. With its wonderful fully equipped ski centers and the natural beauty of Patagonia, Ushuaia offers a unique skiing experience in South America. If you are thinking about the winter season in Ushuaia, don't forget to visit Cerro Castor and Glaciar Martial to experience the best of skiing and snowboarding in Ushuaia.
If you also want to know the variety of accommodations, excursions, restaurants and car rentals for your next trip in Ushuaia, continue browsing the site. In Tourism in Ushuaia you will find everything you need to plan your trip to the End of the World.