What temporary apartments can you rent in Ushuaia?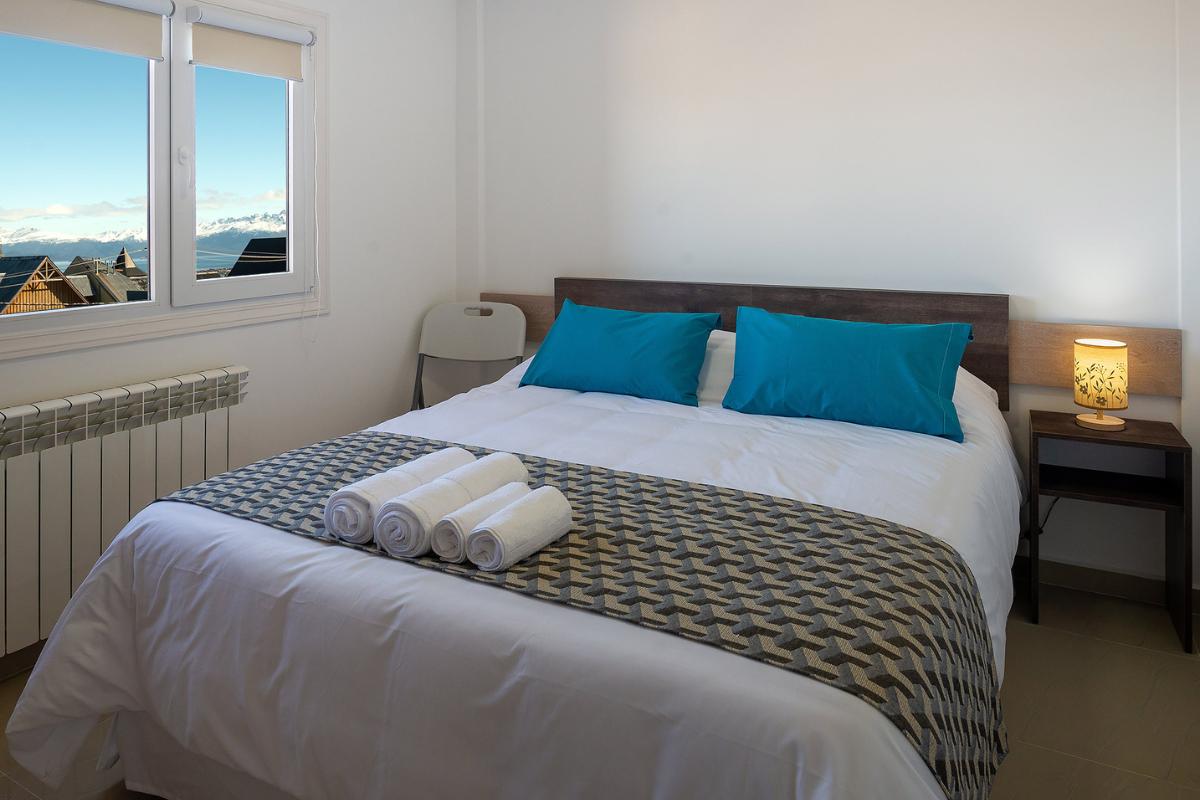 Temporary apartment rentals in Ushuaia: Which is the best option?
If you are planning to visit Ushuaia in the next few months, you are probably wondering what kind of accommodations you can hire. Of course, it all depends on your travel intentions. It is not the same to plan accommodation for a trip of rest and relaxation than for an itinerary full of adventure with a full agenda, or why not, a trip that combines both possibilities. The reality is that for all types of trips and plans the option of renting temporary apartments in Ushuaia is a great idea to have a comfortable and pleasant stay. In this article we tell you about some of the best apartments available for temporary rent in the city of the End of the World.
Discover the features of the best temporary rental apartments in Ushuaia
The first option of temporary apartment rentals in Ushuaia that we present gathers 8 apartments with availability for 2 or 4 people.
These apartments are ideal for couples or small groups looking for a practical and pleasant place to stay. They are located in the center of the city of Ushuaia, near the main bars, restaurants and stores. Also of the main tourist attractions such as the Maritime Museum and the Presidio, Ushuaia Pier and the Civic Square.
The jewel of this group of accommodations is the Isla Bonita Campanario apartment, which has an incredible panoramic view of the city and the Beagle Channel, which makes it completely special. For those who wish to enjoy their stay in Ushuaia accompanied by this particular landscape, this is an unmissable option.
All available apartments have the necessary amenities to have a great stay in Ushuaia. They also include amenities such as free WiFi for guests, TV and accessibility for people with reduced mobility.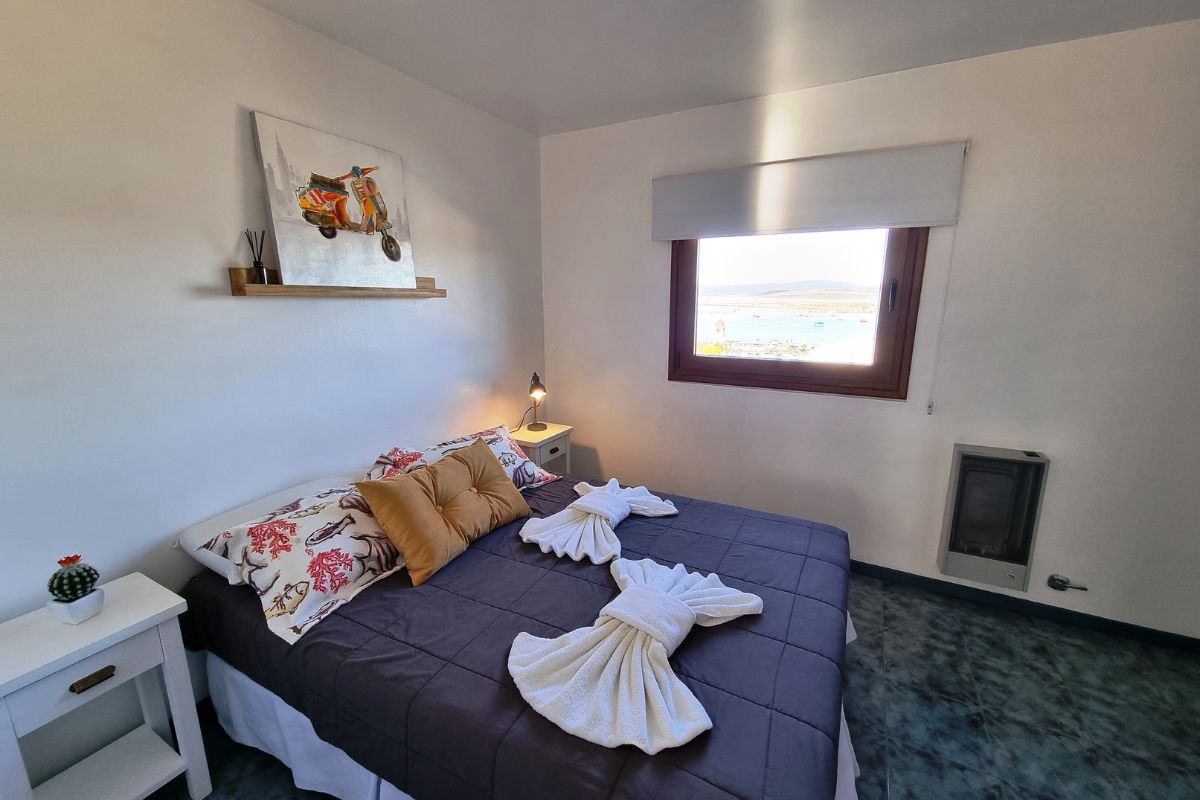 If you are traveling with your family or in a group, the temporary rental apartments in Ushuaia Family 1 are an excellent lodging option in Ushuaia. They can accommodate up to 5 people and have all the necessary amenities to make you feel at home, including a fully equipped kitchen and a spacious and comfortable living room.
The apartments consist of 2 bedrooms and 2 bathrooms. They also include the necessary ambience and equipment to receive large family groups. A highlight of these apartments is that they offer luggage storage once the check-out is done in order to enjoy the city of Ushuaia until the last minute of the trip.
They also have an extra room for the storage of ski and snowboard boards, shoes and snow clothes. An unmissable advantage in the winter season.
Its location is very close to San Martín Avenue, Ushuaia's main street, where the main commercial establishments such as restaurants and supermarkets are located. An indispensable feature to make the most of your time by having everything you need just a few steps away.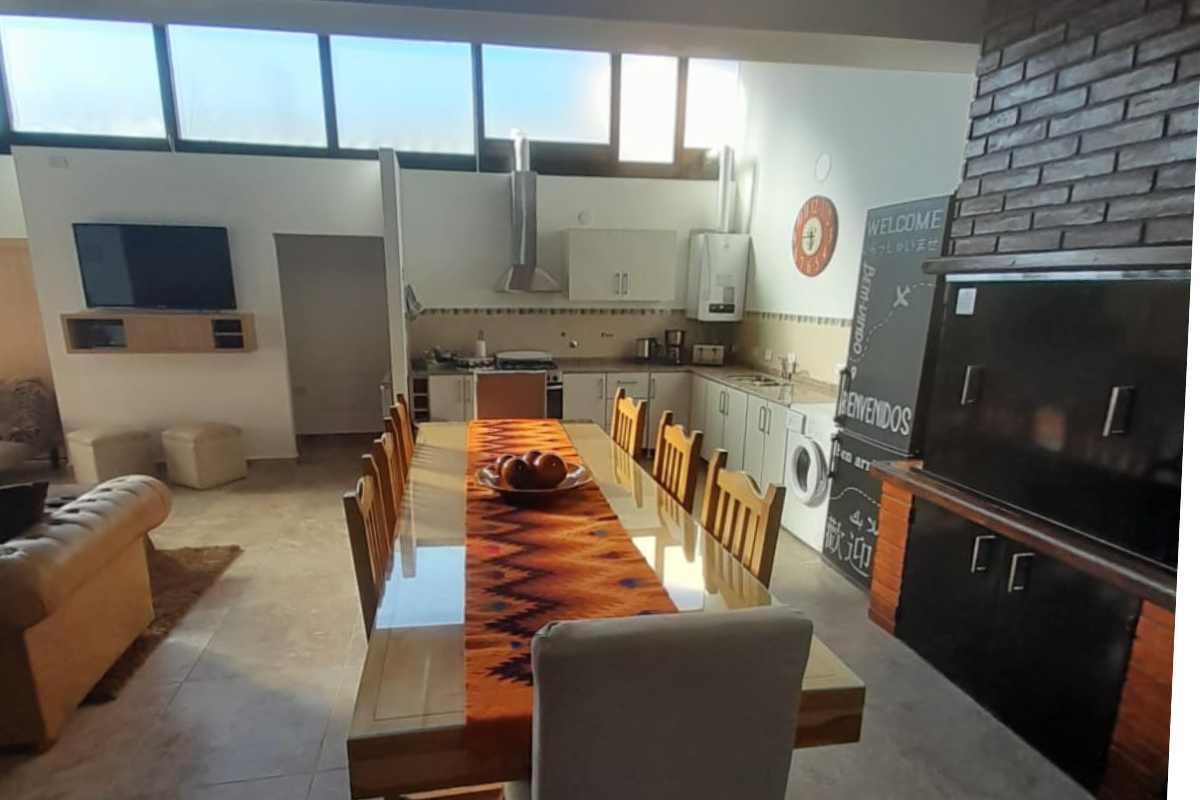 These apartments are also in an unbeatable location in the center of the city. Close to everything you need to spend an excellent stay in Ushuaia: restaurants, bars, shopping malls, tourist agencies, rental ski and other tourist attractions such as the recently mentioned Ushuaia Tourist Pier from where the
navigations in the Beagle Channel
.
They have options for 2, 3 and up to 4 people. Each apartment is uniquely decorated and equipped with everything you need for a comfortable stay.
They can be booked in advance to obtain a preferential price. They offer a magnificent view of the city and its emblematic buildings.
These apartments are located in the Barrio Ecológico area, a few minutes drive from downtown. They offer a panoramic view of the Beagle Channel and the mountains. In addition, they have a fully equipped kitchen, which allows you to cook your own meals and save on expenses.
It is possible to hire options of 2 or 3 rooms, both fully prepared to receive a group of 2 to 4 people. They are surrounded by a marvelous forest of native trees, set back from the center to obtain intimacy and rest for those who are looking for a connection with nature and its interior at the End of the World.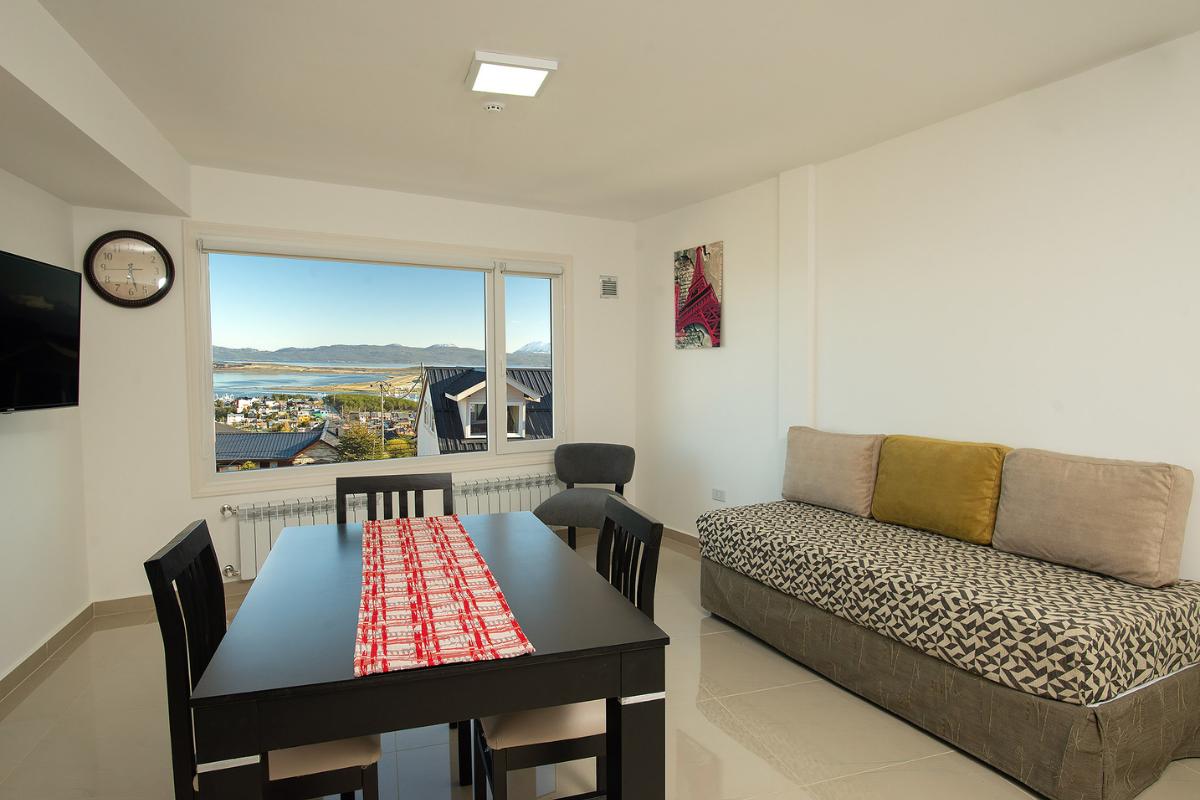 Enjoy and save money renting a temporary apartment in Ushuaia
In general, renting a temporary apartment in Ushuaia can be an excellent option for those looking for comfort and privacy. By having a fully equipped kitchen, you can save on food expenses and have a more authentic experience of the city. In addition, many apartments, such as some of the ones mentioned above, have panoramic views of the city and the mountains, which makes the stay even more special.
Another benefit of renting an apartment is that you can have more flexibility in terms of check-in and check-out times, which allows you to make the most of your days in Ushuaia.
At the same time, there is the possibility of paying for this type of lodging with credit cards, which allows greater accessibility at the time of contracting.
Security is also a very important issue to consider when choosing an accommodation during a trip. The temporary apartments often offer 24-hour surveillance, intelligent key systems and a safety deposit box inside, which will give you the peace of mind that your belongings are safe while you enjoy the many tours.
Some temporary apartments also offer the possibility of hiring a cleaning and linen replacement service. An advantage that is no longer limited to hotels. In this way, you can get accommodation with flexibility, comfort, privacy and at the same time save money. Doesn't that sound like the perfect plan?
Choosing a temporary apartment for rent in Ushuaia can be a great option for those who want to have a comfortable and pleasant stay to fully enjoy the southernmost city in the world. We hope you find this information useful in planning your trip!
In Turismo en Ushuaia you can find all the information you need to hire excursionschoose your restaurants favorites, rent cars and equip yourself for adventure in the outdoor rental. Do not miss any detail of your planning, find everything in one place and dare to enjoy the wonderful city of Ushuaia.