Temporary apartments in Ushuaia

Unforgettable Experience in Ushuaia: Stay in Temporary Apartments
If you are planning your trip to the southernmost city in the world and are looking for comfortable and practical accommodation, then this note will be very useful. We are going to recommend some temporary apartments in Ushuaia that will give you an unforgettable experience. These apartments are ideal for those who want flexibility and comfort during their stay. In addition, we are going to share what aspects to take into account when choosing a temporary rental apartment in Ushuaia and what its greatest benefits are. So get ready to discover the best of Ushuaia from the comfort of your temporary home.
How to Choose the Ideal Temporary Apartment in Ushuaia
When choosing a temporary apartment in Ushuaia, it is important to take several aspects into account to make sure it fits your needs and preferences. Here we present some tips that will help you in this selection process.
Location: Consider the location of the apartment. If you prefer to be close to the city center and the main tourist attractions, make sure the apartment is conveniently located. On the other hand, if you are looking for tranquility and a more relaxed experience, you can opt for an apartment on the outskirts of the city, surrounded by nature.

Size and distribution: Take into account the number of people who will stay in the apartment and the space they will need. Make sure there are enough bedrooms, bathrooms, and common areas for a comfortable stay. Also, make sure that the layout of the space suits your needs and preferences.

Services included: Review the services included in the temporary apartment. Some of the common amenities may be free Wi-Fi, cable TV, bed linen and towels, fully equipped kitchen, and parking. In addition, some apartments also offer additional services such as breakfast, housekeeping or 24-hour reception.

Comments and reviews: Before booking an apartment, it is advisable to read comments and reviews from other guests who have had experience in that accommodation. This will give you a clearer idea of ​​the quality of service, cleanliness, location and other important aspects.

Budget: Define your budget and look for options that fit it. Prices for temporary apartments may vary depending on location, services included and season. Keep in mind that booking in advance can help you find better prices and ensure availability of the apartment that interests you most.
Temporary apartments in Ushuaia that you need to know
Mirador de Alem Apartments
Let's start with the Mirador de Alem Apartments, located in a privileged area of ​​Ushuaia. These modern apartments for 2, 3 or 4 people offer a stunning view of the city and the Beagle Channel. They have a fully equipped kitchen, spacious living room and cozy bedrooms. They also include services such as free Wi-Fi, parking and housekeeping. From here, you can explore the main tourist attractions of Ushuaia, such as the Maritime and Prison Museum of Ushuaia and the Museum of the End of the World.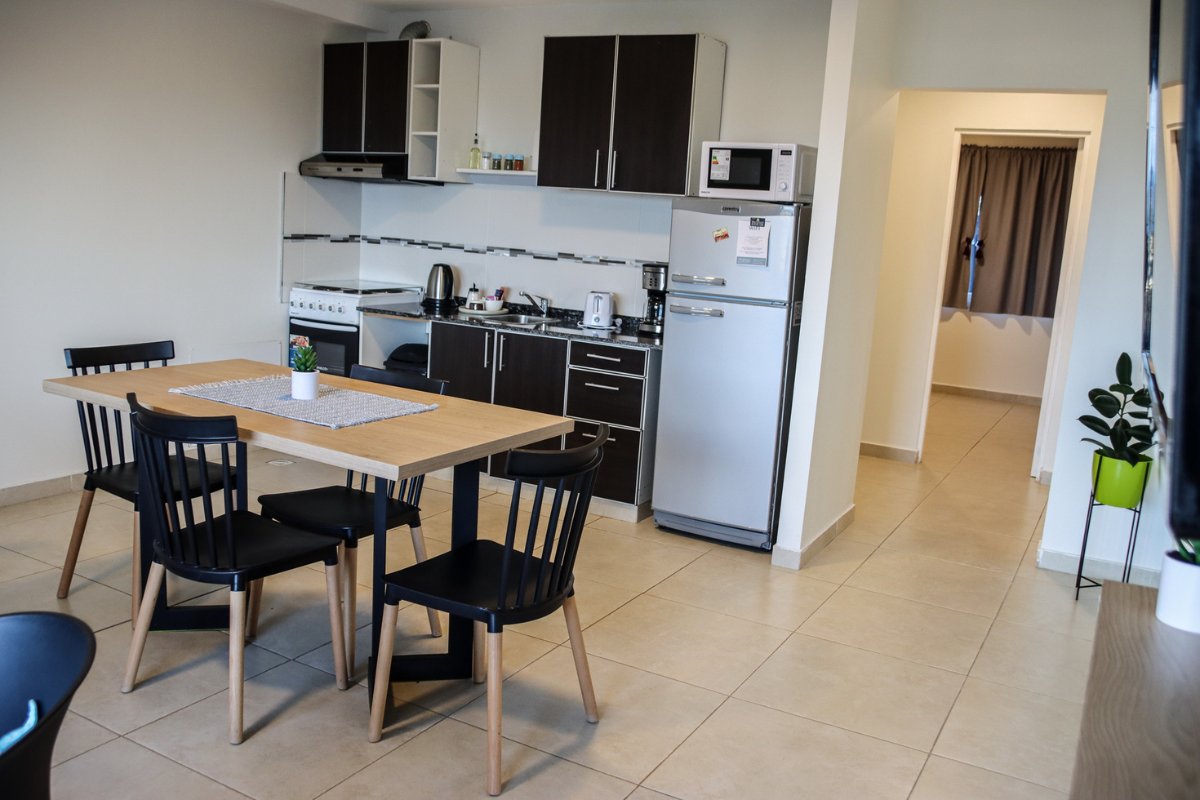 Accommodation Terrazas Ushuaia
Another excellent option is the Terrazas Ushuaia Accommodation, which offers a modern and elegant apartment with all the comforts you need. Located near the city center, fully furnished and suitable for up to 5 people. The accommodation includes cleaning service, bed linen and towels, and they also have free parking. You'll be able to relax in your own private space after a day full of exciting activities. The possibility of renting bicycles and also ski racks is offered in the winter season.
Waia Apartments
If you are looking for a more exclusive experience, we recommend the Waia Apartments. These luxury apartments offer a sophisticated and modern design, with spacious living areas and beautiful views of the mountains surrounding Ushuaia and the Beagle Channel. In addition to standard services such as free Wi-Fi and parking, they also offer complete kitchen equipment and furniture, which allows you to move around with complete freedom within the apartment. Waia Apartments will allow you to enjoy a luxurious atmosphere while you explore everything Ushuaia has to offer.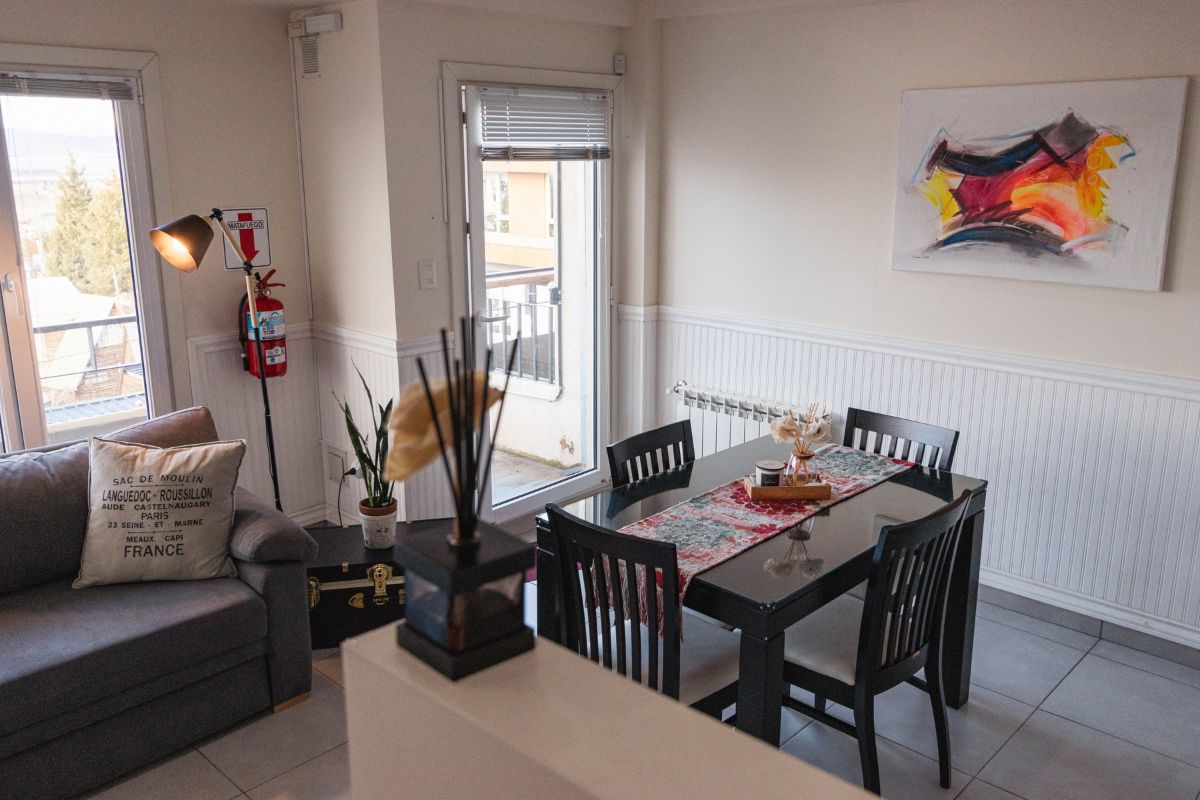 Isla Bonita Suite
Last but not least, we have the Isla Bonita Suite. These cozy apartments for 2 people are located in the center of Ushuaia, a few meters from the two most important avenues in the city: Maipú and San Martín. They are fully equipped to provide a magnificent experience in the southernmost city in the world. They also offer Wi-Fi connection, box spring beds and different strategic locations within the city either near the center or the coast of the Beagle Channel. These apartments are ideal for those looking for a friendly yet practical environment during their stay in Ushuaia.
During your visit to Ushuaia, you will have access to a wide range of activities to enjoy the city. From excursions sailing through the Beagle Channel to hiking in Tierra del Fuego National Park, there is something for all tastes. You can also venture on the famous End of the World Train, explore the Martial Glacier at night or embark on an exciting 4×4 expedition through the Fuegian Lakes. Ushuaia is a true paradise for lovers of nature and outdoor activities.
Staying in a temporary apartment in Ushuaia gives you the opportunity to enjoy comfort and flexibility while exploring this wonderful city. The recommended apartments offer high quality services and convenient locations. Additionally, you will have access to a wide range of Exciting excursions in Ushuaia to complement your stay.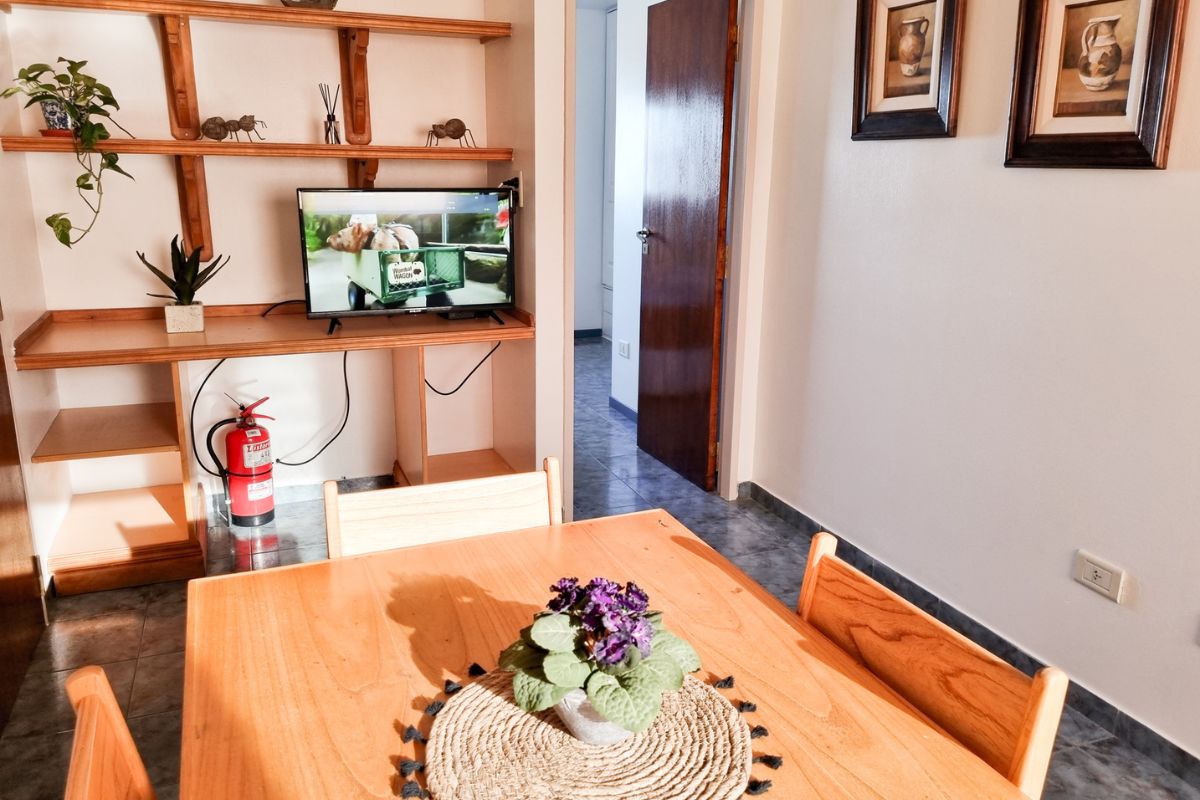 When and How to Start Searching for Your Accommodation in Ushuaia
As for the right time to start looking for a temporary apartment in Ushuaia, it is advisable to do so well in advance, especially if you plan to visit the city during high demand seasons both in winter and summer. This precaution will allow you to have more options available and secure the accommodation that best suits your needs.
Staying in a temporary apartment in Ushuaia gives you a unique experience and allows you to enjoy the city in a more authentic way. In Tourism in Ushuaia you can find a wide variety of options available for accommodations in Ushuaia and taking into account the aforementioned aspects, you will be able to find the perfect accommodation to make your stay in Ushuaia an unforgettable experience.
Benefits of Staying in Temporary Apartments at the End of the World
Finally, we want to highlight that staying in a temporary apartment in Ushuaia offers numerous benefits compared to other types of accommodation. Here we mention some of them:
Flexibility: By staying in a temporary apartment, you have the flexibility to establish your own schedules and routines. You will be able to enjoy the privacy and comfort of having your own space to relax and unwind.

Comforts of home: Temporary apartments are usually equipped with all the comforts of home, such as a full kitchen, washing machine, living room, and sleeping areas. This allows you to have a more welcoming experience and gives you the option to cook your own meals, saving money at restaurants.

Saving money: Compared to hotels, temporary apartments are usually cheaper, especially if you are traveling in a group or family. In addition, by having a kitchen, you can prepare your own meals and avoid additional expenses in restaurants.

Local experience: By staying in a temporary apartment, you have the opportunity to immerse yourself in the local life of Ushuaia. You will be able to explore local markets, interact with neighbors and discover hidden corners of the city that you may not find on conventional tourist itineraries.

Space to socialize: If you travel in a group, a temporary apartment offers a large and comfortable space to socialize and spend time together. You can share meals, play board games or simply enjoy the company of your loved ones in a relaxed atmosphere.
In conclusion, when choosing a temporary apartment in Ushuaia, it is important to consider the location, size and layout, the services included and read reviews from other guests. Starting your search early will allow you to ensure availability and obtain better prices. Temporary apartments in Ushuaia offer flexibility, home comforts, money savings, the possibility of experiencing local life and spaces to socialize and we share in this note a selection of temporary apartments for you to consider when it comes to plan your trip to Ushuaia. We hope this note is useful and we hope to see you soon visiting the fantastic city at the End of the World.