Glamping in Ushuaia: A unique experience at the End of the World
Discover the perfect combination of luxury and nature: Glamping in Ushuaia
We present to you a new form of accommodation in Ushuaia: glamping. If you are looking for a unique experience close to nature, glamping is the perfect option for you. In this article, we will tell you what glamping is, the benefits it offers and why it has become a new form of accommodation. In addition, you will find interesting information about what glamping is like in Ushuaia and why this new form of accommodation is a spectacular choice for people who seek adventure but do not want to give up the comfort of conventional accommodation.
Glamping: a unique form of accommodation
Glamping, a combination of the words "glamour" and "camping", is a growing global trend that combines the comfort and luxury of a hotel with the adventure and connection to nature of camping. It is a form of accommodation that allows you to enjoy all the comforts while you immerse yourself in impressive natural environments. Instead of a conventional tent, you will in most cases find an exclusively designed dome or cabin, equipped with comfortable beds, often a private bathroom and many other amenities.
One of the main benefits of glamping is that it gives you the opportunity to enjoy the natural beauty of a place without giving up comfort. Forget about the inconveniences of traditional camping, such as setting up a tent with complicated stakes or pipes; or do without basic services. At a glamping site, you can relax and unwind in an idyllic setting without worrying about anything other than enjoying the experience. Additionally, many glamping options include additional amenities, such as included breakfast, housekeeping, and access to common areas.
Glamping has become a new form of accommodation thanks to its ability to combine the best of two worlds: connection with nature and luxury. It is perfect for those looking for a unique and memorable travel experience. Whether in a lush forest, on a paradisiacal beach or in the mountains, glamping allows you to enjoy the tranquility and beauty of nature without giving up the comforts and style that you are looking for on your vacation.
Glamping at the End of the World. What is the experience in Ushuaia like?
In Argentina there are many destinations where you can enjoy this new way of staying and one of the highlighted cities is undoubtedly Ushuaia. In this magical corner of the country, the glamping is located in the Llanos del Castor winter center, an impressive place surrounded by imposing mountains. From there, you can enjoy incredible panoramic views and in winter, when the sky clears, you can admire a celestial spectacle with completely starry skies.
At the Ushuaia glamping site, you will find dream accommodations that combine avant-garde design with the warmth and rusticity typical of the area. You can stay in domes equipped with all the necessary amenities to make your stay unforgettable. The domes have a design that blends in with the natural environment and offer spacious and comfortable spaces, perfect for relaxing and enjoying the beauty of the surroundings. In addition, they offer a private bathroom and heating to fully enjoy the cold nights of the southern winter.
In addition to accommodation, glamping in Ushuaia offers a variety of included services that will make your stay even more pleasant. When you wake up, you can enjoy a delicious full breakfast that will give you energy to explore the incredible landscapes of Cerro Krund, Cerro Alvear, Valle Olum and even do the trekking to Laguna Esmeralda. The facilities guarantee a restful rest after a day full of activities and adventures. Personalized attention is also offered, where staff are always available to provide assistance and recommendations throughout your stay.
But the glamping experience in Ushuaia goes beyond accommodation. At the Invernal Llanos del Castor center, you will have access to a wide variety of complementary activities that will allow you to enjoy your stay to the fullest. Within the winter center you will find recreational activities during the summer and winter seasons, which depending on the season include sledding adventures along the snowy slopes, snowmobiling or exciting hiking excursions to explore the natural beauty of the area. In addition, you can taste the delicious local cuisine in the nearby restaurants and marvel at the unique beauty of the Fuegian landscapes.
Staying at a glamping site in Ushuaia is a magnificent experience that combines adventure, luxury and connection with nature. You will enjoy incredible views, starry skies and unique accommodation in the Invernal Llanos del Castor center. With included services, complementary activities and an impressive natural environment, glamping in Ushuaia gives you the opportunity to live unforgettable moments and create memories for a lifetime. Whether you visit Ushuaia in winter to enjoy snow activities or in summer to explore the fascinating landscapes, glamping will allow you to immerse yourself in the natural beauty of this unique region of Argentina.
An alternative accommodation that combines convenience, comfort and sustainability is Bagual Trailer. A unique proposal in Ushuaia that offers the possibility of spending the night in designated places in a trailer fully equipped for this purpose. You decide where you want to spend the night in the immense Tierra del Fuego National Park or in other authorized places and Bagual Trailer brings you the mini trailer. An adventure you won't want to miss!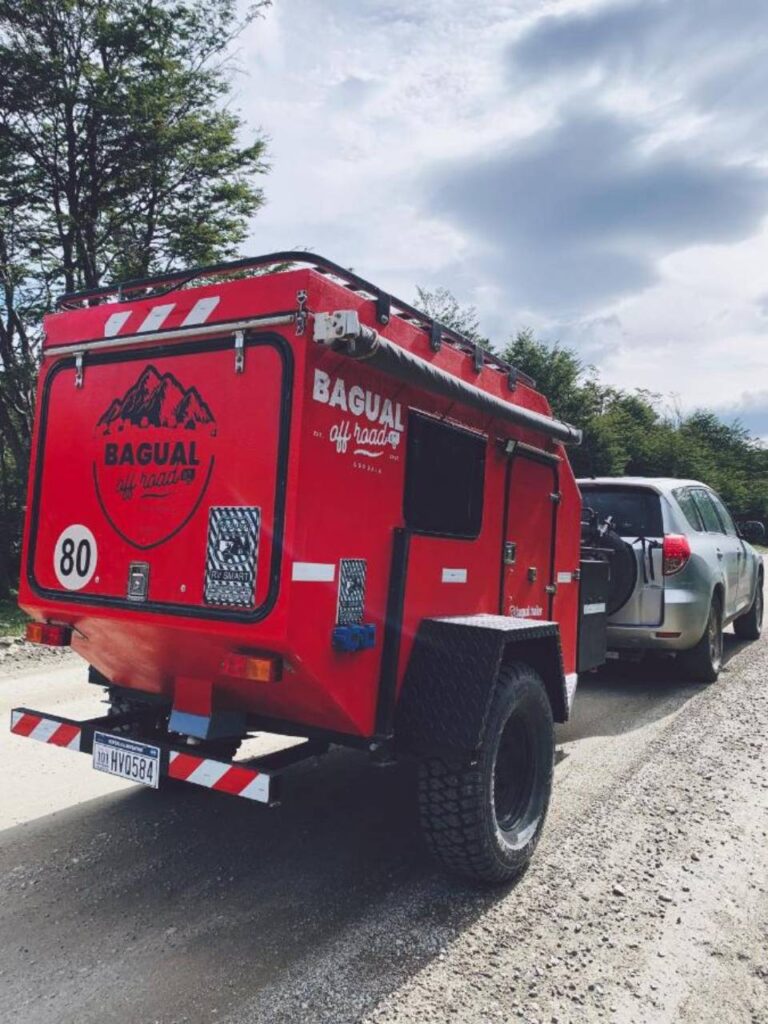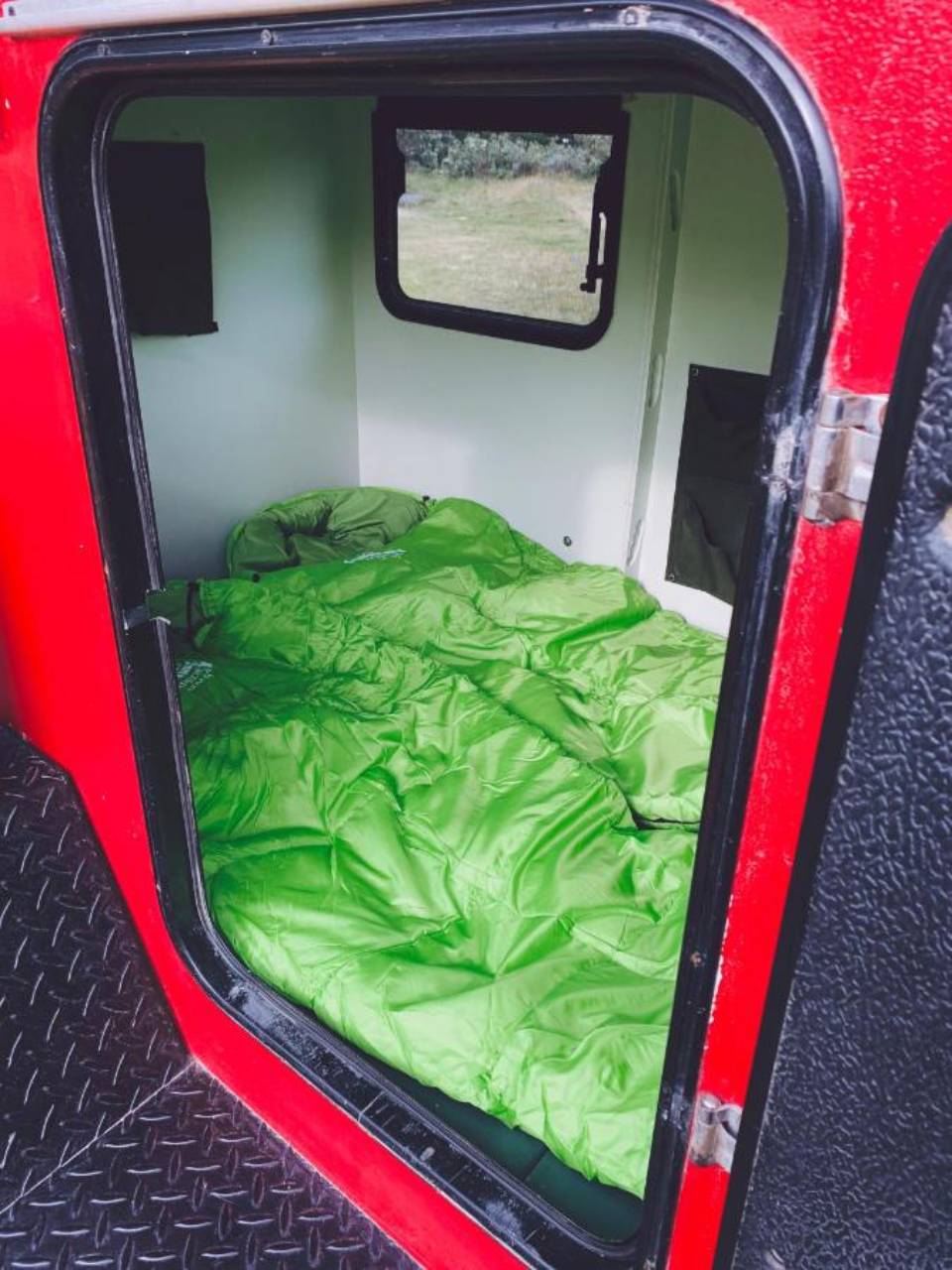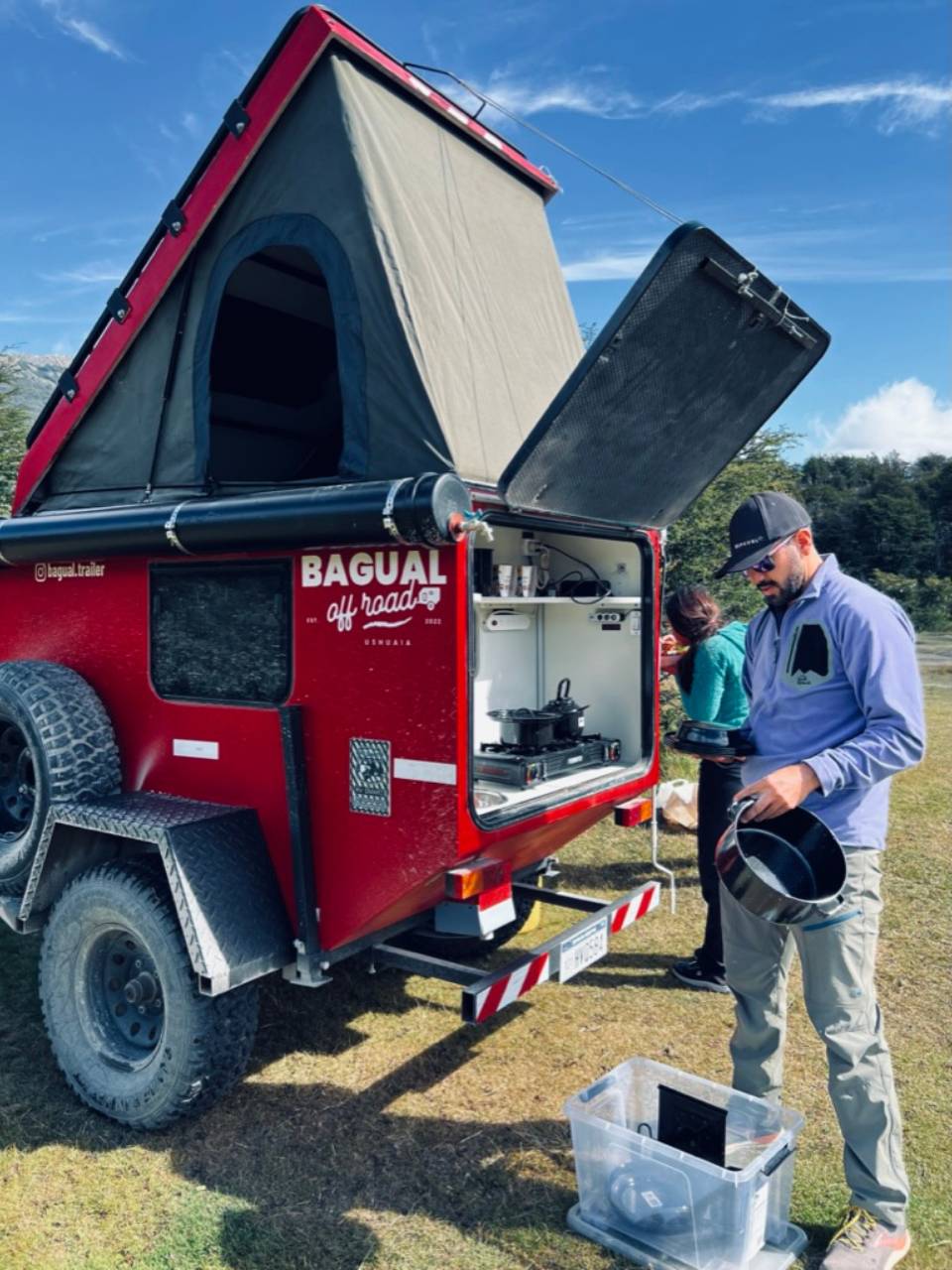 A lodging alternative that combines comfort with adventure
Glamping in Ushuaia is a perfect option for those looking for a unique lodging experience full of comforts. You will discover the magic of sleeping under the stars, in the company of the Fuegian Andes mountains and captivating landscapes. At the Invernal Llanos del Castor center, you will have the opportunity to enjoy quality services, exciting activities and personalized attention that will make your stay an unforgettable experience. Don't miss the opportunity to immerse yourself in the beauty of Ushuaia while enjoying all the comforts that glamping has to offer.
If you have already decided on your accommodation at Ushuaia Glamping, continue browsing our platform. Here you can find the widest variety of options restaurants in Ushuaia, excursions and activities to do in Ushuaia, car rental in Ushuaia, Outdoor equipment rental for your adventure and everything you need to plan your trip to Ushuaia and that nothing is missing on your next visit to the charming city at the End of the World.
Get ready to live a unique adventure!