6 Restaurants and must-see places in Ushuaia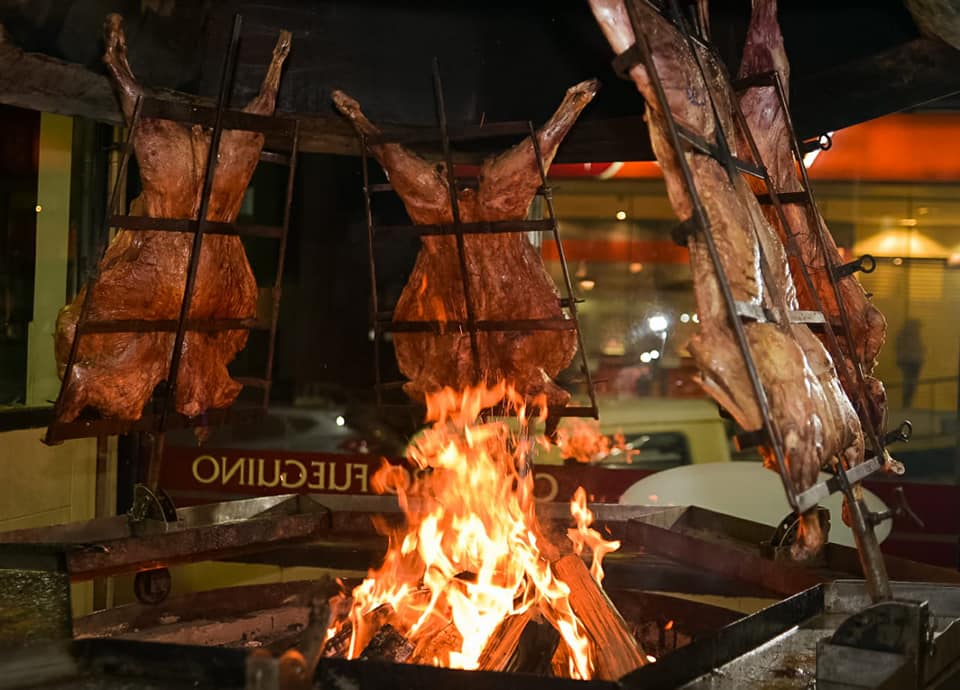 6 unmissable restaurants in Ushuaia that you cannot miss trying
If we propose to make an analysis of the gastronomic wealth of Ushuaia, we find that it is a city where not only are numerous typical dishes of the region offered, but also fusions of different cuisines as well as vegetarian and vegan options, often in the same place. So, if you are a lover of good food, Ushuaia is definitely a place you have to visit. In this note we are happy to share 6 unmissable restaurants in Ushuaia and if you make it to the end, we are going to recommend two unique places that you will also want to add to your itinerary.
Augusto Ushuaia
Augusto Ushuaia is a haute cuisine restaurant that offers a fusion of Patagonian and Mediterranean flavors. Its menu stands out for the use of fresh, high-quality local ingredients. From delicious seafood to exquisite meats, each dish is a culinary masterpiece. Plus, the elegant ambiance and attention to detail make the experience even more memorable.
This restaurant offers options for lunch, snacks and dinners. But his proposal does not end there. It also has an exclusive selection of wines to accompany its tasty dishes, as well as a wide variety of desserts and delicatessens. An exclusive gastronomic experience that invites you to enjoy every moment.
Chez Manu
If you are looking for a unique atmosphere and delicious dishes, Chez Manu It is the ideal place. This family-run restaurant specializes in French and Argentinian cuisine, offering a wide variety of gourmet dishes. Their unique and authentic creations will transport you through an unforgettable culinary experience.
As we mentioned, they stand out for their combination of French cuisine with a strong local imprint through the use of natural and fresh raw materials. In their dishes they offer a play of flavors. They claim home-made and artisanal cuisine through an unparalleled gastronomic proposal. They specialize in dishes that include seafood from southern waters and the traditional Argentine grill.
Kalma Rest
Located in a stunning natural environment, Kalma Resto offers a perfect combination of gastronomy and panoramic views. With its varied menu that includes fresh seafood, grilled meats and vegetarian dishes, this restaurant is guaranteed to satisfy the most demanding palates.
Led by chef Jorge Monopoli, Kalma Restó's dishes invite you to delight the senses through a tour of typical flavors of southern Patagonia in combination with a magnificent atmosphere, pleasant service and incomparable views of the Beagle Channel and the city of Ushuaia.
Kalma Restó is one of the unmissable restaurants in Ushuaia if your goal is to enjoy an exquisite meal while contemplating the majestic landscape of the End of the World.
La Cravia – Hotel Arakur
The Cravia is a restaurant located in the exclusive Arakur Hotel that offers a first-class culinary experience. With elegant decoration and panoramic views of the city and the Beagle Channel, this restaurant is perfect for lunches and dinners that deserve a special moment. Its gourmet menu presents sophisticated dishes from Argentine and Patagonian cuisine, always prepared with fresh and seasonal ingredients.
It offers buffet and a la carte options that include Argentine grill, king crab, lamb, toothfish and other tasty options.
It should be noted that it has a magnificent terrace that overlooks the city of Ushuaia to taste unparalleled dishes with the best view.
Reinamora – Hotel Los Cauquenes
Located in the picturesque Hotel Los Cauquenes, Reinamora combines culinary art with stunning sea views. This restaurant offers a unique gastronomic experience, with a fusion of regional and international flavors. Dishes made with quality local products and presented with style will leave you with a lasting memory.
Offers breakfast, lunch and dinner options. All of them with a marked local imprint and careful attention to the details of presentation as well as the guarantee of the freshness of their ingredients.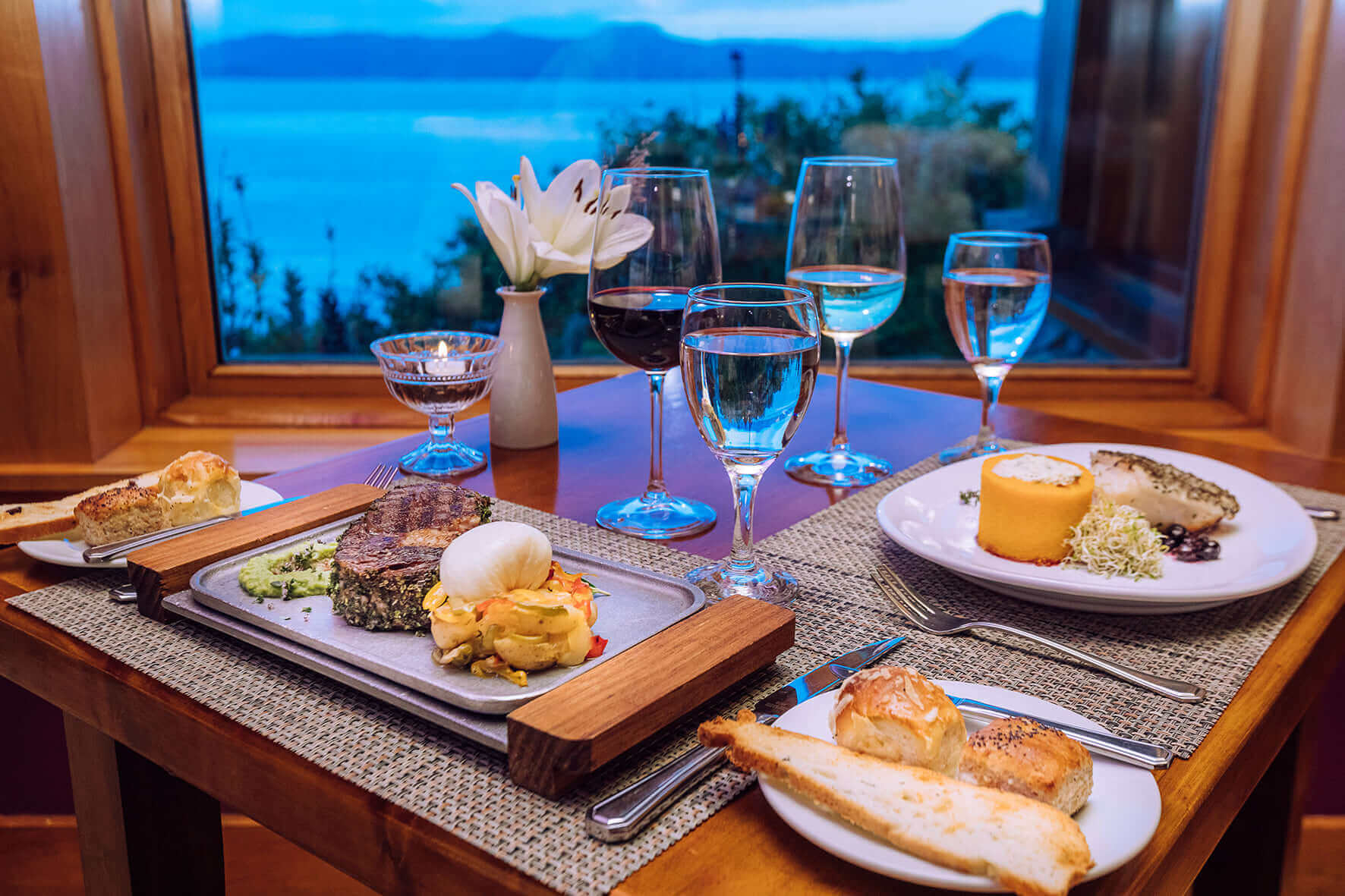 Back Ushuaia
If you are going to visit Ushuaia and are interested in living an authentic culinary experience, Return Ushuaia It is the point of interest that you do not want to miss. This iconic restaurant specializes in traditional dishes from southern Argentine Patagonia.
Its renowned Chef, Lino Adillon, is pleased to welcome his guests with the best fresh and high-quality products to generate an indelible memory of their visit to the restaurant.
In addition to its unmatched gastronomy, Volver has decorative and ambiance characteristics that make it unique. You will have the opportunity to enjoy Patagonian flavors in a pleasant environment, decorated with historical relics and innovative items. Without a doubt, visiting Volver is a complete experience for the senses.
2 unmissable places that you will also want to visit in Ushuaia (and where you can also enjoy gastronomy)
Mountain Refuge
Refugio de Montaña is a restaurant, located at the beginning of the road to the Martial Glacier, is the perfect place to enjoy typical dishes with an unparalleled view of the forest and Fuegian nature. Its specialty is dishes with regional ingredients such as Fuegian lamb in its different versions of casseroles and stews.
In summer you can do canopy activities among the trees and in winter it offers a ski and snowboard school. The mountain bar is open all year round and is the ideal meeting point to rest and eat a comforting dish after a day of adventures in nature.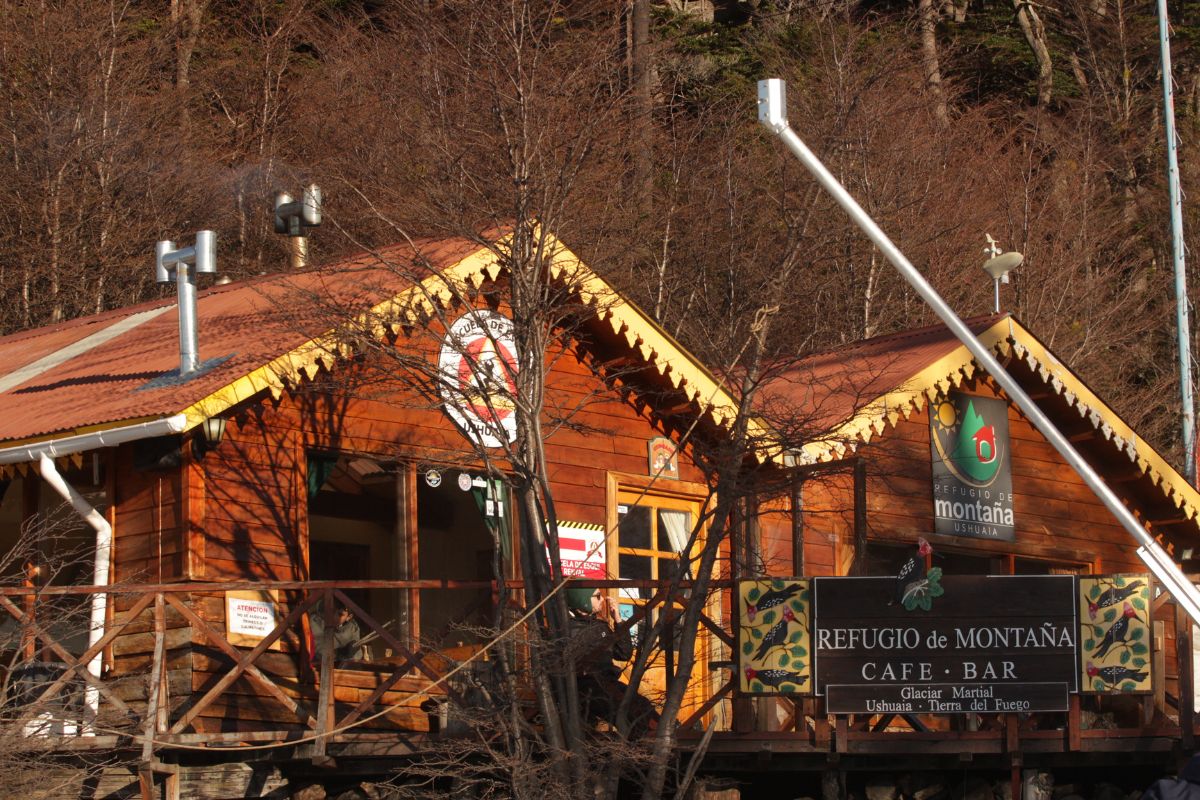 Dublin Irish Pub
Finally, if your purpose is to discover a unique environment full of history, you will not want to miss visiting the Dublin Irish Pub. This iconic Irish pub has been part of the city for decades and has witnessed numerous stories and events. With its authentic Irish decor and wide selection of beers and whiskeys, the Dublin Irish Pub will transport you to the lively atmosphere of Dublin's pubs. You can enjoy live music, a pleasant atmosphere and a unique cultural experience while you immerse yourself in the history of Ushuaia with its residents.
Ushuaia, a gastronomic adventure for every palate
Each of these 6 must-see restaurants in Ushuaia has its own charm and offers an unparalleled culinary experience. Whether you intend to enjoy haute cuisine, gourmet dishes or traditional flavors, Ushuaia will not cease to surprise you.
In addition to the delicious food, these restaurants also stand out for their privileged location. As we saw, many of them offer stunning views of the Patagonian landscape, allowing you to enjoy a memorable meal while marveling at the natural beauty that surrounds Ushuaia.
No matter which of these must-see restaurants in Ushuaia you choose to visit, keep in mind that the quality of the ingredients and the attention to detail are present in each dish. The cuisine in Ushuaia is known for its focus on fresh and local products, ensuring that every bite is an explosion of authentic flavors.
Remember that at Tourism in Ushuaia we have the most complete selection of information to plan a trip to Ushuaia. Visit our website and find: lodging in Ushuaia, excursions and activities to do in Ushuaia, CAR RENTAL, outdoor equipment rental and numerous promotions to enjoy the wonders of the End of the World without equal.