3 winter centers that you have to visit in Ushuaia Winter 2023

Winter Centers to visit yes or yes in Ushuaia during winter 2023
If you are planning a trip to Ushuaia in winter 2023, you cannot miss visiting some of the most impressive winter centers in the city. Many of them are close to the city of Ushuaia and you can book numerous excursions to visit them or access them privately if you choose, for example, rent a car. In this article, we are going to detail the 3 winter centers that you have to visit in Ushuaia Winter 2023.
1- Cerro Castor Winter Center
The Cerro Castor Winter Center It is the reference ski center in Ushuaia. The most chosen and visited by winter sports lovers. Located about 26 kilometers from the city, the winter center has 33 different slopes, ranging from beginner to advanced, and more than 100 kilometers of ski slopes. In addition, this winter center has a ski and snowboard school, where visitors can learn with professional instructors.
Cerro Castor is also known for its incredible natural landscape. With unrivaled panoramic views of the surrounding mountains, visitors can enjoy the beauty of the landscape while skiing or simply strolling the trails. If you are not an experienced skier, you can go on a snowshoe hike along the mountain trails. In addition, Cerro Castor also offers other activities such as ice skating and cross-country skiing rinks, activities that are suitable for all ages and levels.
In turn, Cerro Castor offers 8 gastronomic points so that the visit is a complete experience. Located in different areas of the center, they offer unparalleled views of the surroundings and menus of all kinds, from minutes to typical dishes such as Patagonian lamb.
There are multiple excursion packages that offer days of adventure in Cerro Castor. For winter sports lovers, there are options mini week (3 days) of skiing or snowboarding with transfers from Ushuaia included or you can choose to hire a full week of skiing , also with transfers included.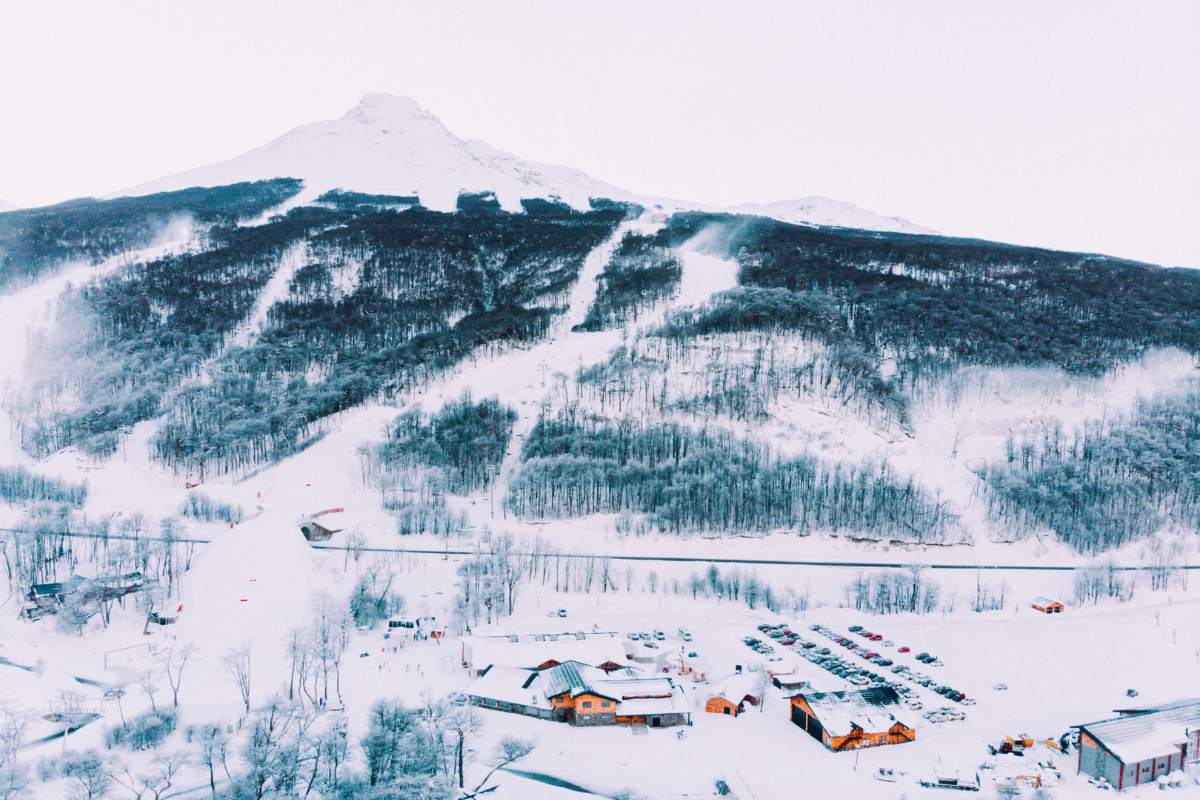 2- Llanos del Castor Winter Center
The Llanos del Castor Winter Center It is another impressive place that you cannot miss during your stay in Ushuaia. Located about 22 kilometers from the city, the winter center is known for its unique winter activities. One of the most popular activities in Llanos del Castor is cross-country skiing, which allows you to travel long distances in the snow with spectacular scenery.
Another of the outstanding activities in Llanos del Castor is the dog sleigh ride. Visitors can experience the thrill of driving a Siberian Husky dog ​​sled through the snow. You can also try snowshoeing and even drive a snowmobile.
An unprecedented activity that will leave you with your eyes open is "burbugol". It consists of playing a soccer game inside plastic bubbles, which provides difficulty but also adrenaline and all this added to the fact that it is played in the snow. Without a doubt, it is an afternoon of guaranteed fun for children and adults.
Llanos del Castor is an ideal destination for those looking for snow adventures and unique activities. You can try hiring the Panorama Blanco or Silencio Andino excursions to ensure a unique day of fun among mountains and snowy forests.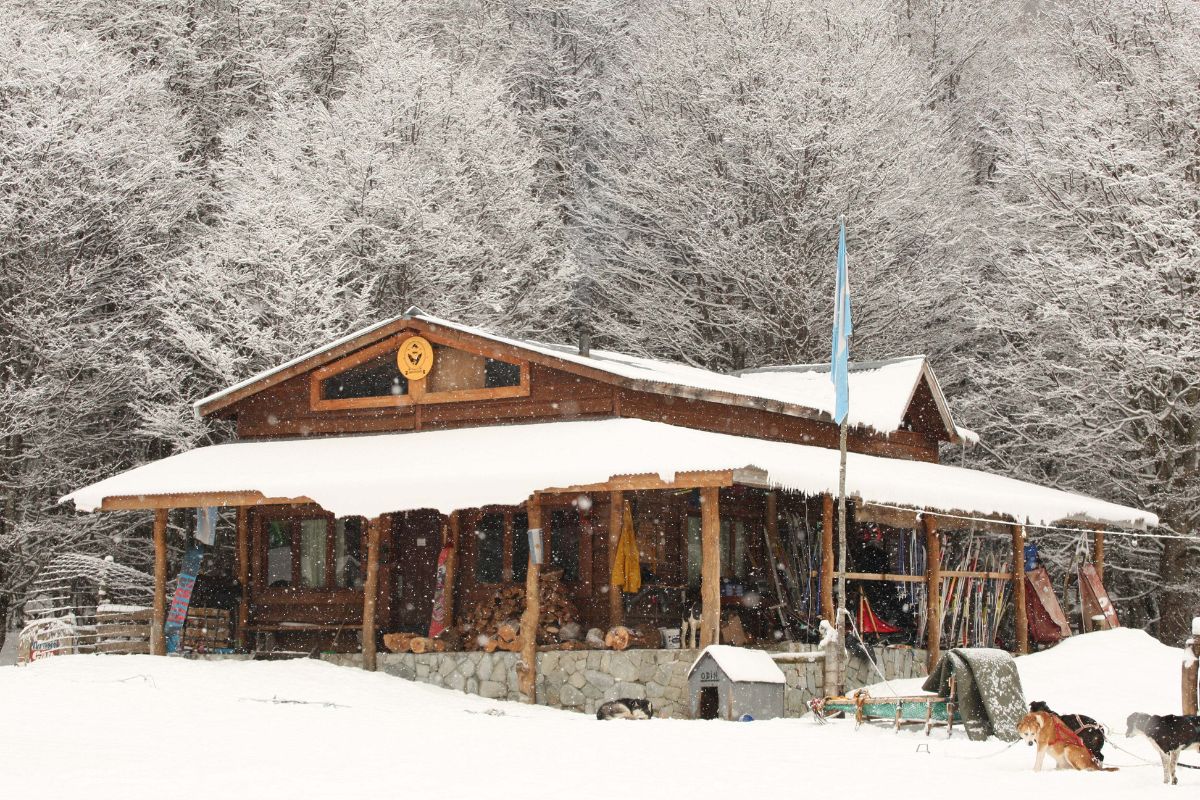 3- Tierra Mayor Winter Center
Located just 20 kilometers from the city, the Tierra Mayor Winter Center It is another place that you will not want to miss during your trip to Ushuaia in winter 2023. It was the first winter resort in Ushuaia and is famous for its extensive cross-country ski trails, which extend for more than 30 kilometers through the impressive landscape of the Fuegian Andes. The deep snow and the natural beauty of the landscape make this place one of the best for cross-country skiing.
In addition to cross-country skiing, Tierra Mayor also offers dog sledding, snowmobiling, and snowshoeing. If you want to relax after a day full of activities, you can enjoy a gentle skating on its ice rink.
Another highlight of the Tierra Mayor Winter Center is its restaurant, which offers a variety of local dishes and regional specialties, which will leave you with an unforgettable taste in your mouth. In addition, the winter center has a souvenir shop where you can buy souvenirs from your trip.
One of the unmissable excursions to take in this winter center is known as Snow and Fire, a night activity in the snow that crosses all the senses. Sleigh and snowmobile rides, snowshoeing and a comforting dinner to end the day.
We highlight these 3 winter centers that you have to visit in Ushuaia in Winter 2023 with the aim of showing just some of the most tempting attractions in Ushuaia in winter 2023. Each offers something unique, from cross-country skiing and dog sledding to snowmobiling and ice skating rinks. What is certain is that you will not want to miss visiting these winter centers if you are looking for a unique and exciting winter experience in Ushuaia.
Of course, Ushuaia offers countless attractions not only for tourism in nature, but also an unparalleled gastronomic offer in its different restaurants , where dishes that offer seafood and crustaceans such as Crab stand out.. As well as cultural proposals to learn more about the city and its history, such as the city ​​tour in Ushuaia or the combination of culture and gastronomy knowing the architectural history of Ushuaia .
Make sure you bring enough warm clothing and appropriate equipment to fully enjoy activities in the snow and extreme cold. You can consult the best recommendations on how to dress in Ushuaia and purchase your snow equipment in our exclusive Rental Outdoors section. As you can see, at Tourism in Ushuaia we offer you everything you need to Plan your trip to this magnificent city and enjoy your stay at the End of the World.